Alive and Radical: The Grey-Haired Girls of Top of the Lake: China Girl
09/08/2017 at 5:00 pm / 0 Comments
By Blythe Worthy
At MIFF's Top of the Lake: China Girl - In Conversation Talking Pictures event, a nervous woman of about sixty is asking New Zealand director Jane Campion a question about the most recent instalment of her six episode-strong TV series Top of the Lake: China Girl, which had its Australian premiere in full the day before. The woman is nervous, her shaking hand gripping the mic as her voice wavers. She clears her throat. "I wanted to know about Nicole Kidman," she says, "Why did you give her grey hair? Why did she have warts?"
Usually a woman of so many words, Campion cooly lifts her hand and gestures to her own mane of long blonde-grey hair tied back with a thick black band, ponytail cascading over her shoulder. She taps it with her finger, her expression unreadable. There are nervous titters from the audience. "But she seemed so much older than her husband Pyke!" the woman exclaims incredulously. The auditorium bursts into laughter and applause. Campion raises her eyebrows and nods, mute, raising her hand and again tapping her own greying crown. "I thought she looked gorgeous, she looked alive and radical. It was an excuse for her to get out of being the most beautiful person in the room and really disappear into her character," Campion comments. No further explanation is given, but the sentiment is clear; ageing women exist, they fuck younger men, and they buy movie tickets. Though Top of the Lake: China Girl may be different to the most popular depictions of ageing women in mainstream cinema today, Campion is joining the ranks of a group of filmmakers including Nancy Meyers, Jill Soloway and Ryan Murphy popularising stories about menopausal women living complicated lives. "When I called [co-writer] Gerard [Lee] about making the series, I had two ideas" Campion continued, "I wanted it to be six hours long and I wanted it to be about a group of postmenopausal women. Unfuckables."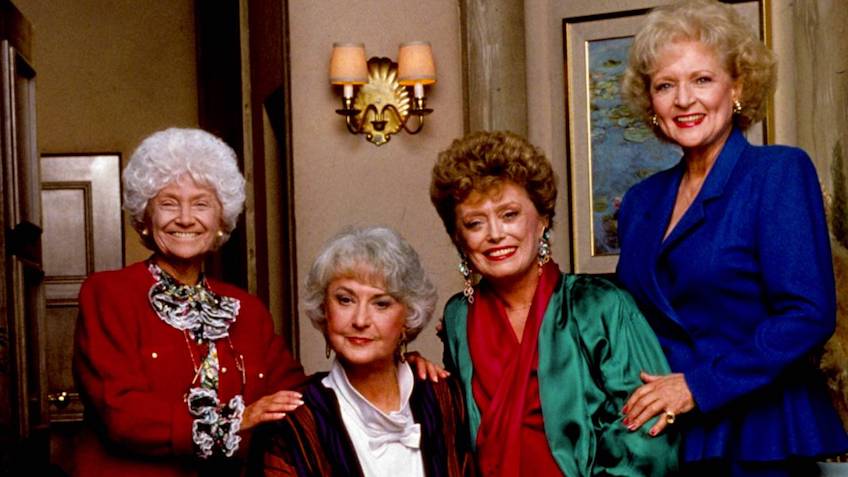 The Golden Girls (1985 - 1992)
Since Meyers' 2003 runaway success Something's Gotta Give, a rom-com detailing people in the autumn of life finding love, the menopausal woman has experienced an invigorating, if inconsistent, excursion on film. In the same year, Audrey Wells' middle-aged romance Under the Tuscan Sun surprised critics and industry alike by performing strongly at the box office. On a Christmas Day release in 2009, Meyers again made waves with It's Complicated, a post-divorce rom-com starring two of Hollywood's most sought-after names, Meryl Streep and Alec Baldwin. Though it received mediocre reviews, in 2010, Murphy's adaptation Eat Pray Love more than doubled its production budget and successfully catapulted the ageing woman out of media obscurity and into the public eye. Due to the box office attention received by these films, the middle-aged movie suddenly attained viability in Hollywood and abroad, as directors scrambled to cash in on the grey dollar. Television, always keen to cater to its high female audience, followed suit, wholly embracing the move to recognise this ageing audience demographic (though arguably this was pioneered by Susan Harris's wildly popular sitcom Golden Girls back in 1985). Soloway developed Transparent for Amazon in 2014, a comedy-drama series that follows the lives of a family struggling to understand and accept their patriarch's later life gender transition. Grace and Frankie soon followed in 2015, another comedy-drama series created by Marta Kauffman and Howard J Morris for Netflix, detailing the lives of two women whose husbands have left them to pursue a same-sex relationship with one another.
Top of the Lake: China Girl integrates postmenopausal women into the story in insightful and resourceful ways.
Top of the Lake: China Girl also has two characters who engage in a middle-aged rediscovery of their sexualities. Ray (Geoff Morrell) is living with a much younger man, while Nicole Kidman's character Julia has gone very much the other way, leaving her partner Pyke (Ewen Leslie) for a female schoolteacher from her daughter's school. Described by Campion as "a suburban queen brought to her knees," Julia is in combat with her daughter Mary (played by Campion's own daughter Alice Englert) as she struggles to assert herself in a relationship further complicated by the arrival of Mary's birth mother Robin (Elizabeth Moss). In her character arc, Julia leaves a younger man for an older woman in a deliberate consideration of her own desires in a display of upfront sexuality not played for laughs. In this sense, Campion is also consciously making a decision to break from the 'acceptable' modes of telling ageing feminine stories. When Kidman's promotional photo was released earlier this year, many equated her character with the previous series' guru GJ (Holly Hunter in a long grey wig). As the previous series was set in a post-menopausal women-autonomous commune, exploring ageing feminine sexuality was part and parcel of the plot. Top of the Lake: China Girl however, integrates postmenopausal women into the story in insightful and resourceful ways.
Jane Campion
In the fourth episode, Mary (Robin's daughter given up for adoption when she was 15) is giving her birth mother a surprise visit. Campion's camera pans smoothly from the cramped interior of Robin's lonely pastel-toned apartment to a coolly-lit and concreted beach somewhere near Bondi. Robin and her brother Liam (Kirin J Callinan) are calmly pacing the sand with Mary and Miranda, Robin's crime-fighting partner (Game of Thrones' Gwendolyn Christie). As the four walk together, Liam play-splashes Miranda and soon the two are play-fighting as flirtatiously as Sylvester Stallone and Carl Weathers' characters in the penultimate training scene in Rocky III. But the tone shifts quickly as Liam seems to suddenly become serious, pulling the soaked Miranda to him in an almost predatory manner. She flinches away angrily and quickly retreats, stomping stroppily out of shot. Whilst this mischievous altercation is happening however, two other figures appear unacknowledged, sauntering nonchalantly through the background of the action. It is an elderly couple – two women – completely nude and knee-deep in the lapping sea. The duo wander aimlessly, quietly visible and in sharp focus. Though they add nothing to the plot, their presence saturates the atmosphere. Campion empathises with them, focusing on their non-traditional forms of femininity respectfully and without comedic interjection. These grey-haired figures work as a knowing wink to the audience, a playful suggestion of Campion herself. In this way, feminine jouissance in Top of the Lake works both ways; a languishing enjoyment without purpose.
A screening of Top of the Lake: China Girl in its entirety took place on 5 August, followed by the Top of the Lake: China Girl - In Conversation Talking Pictures event on 6 August 2017.
---
Interested in writing for our blog? Send your pitches to editor@miff.com.au.