Zach Karpinellison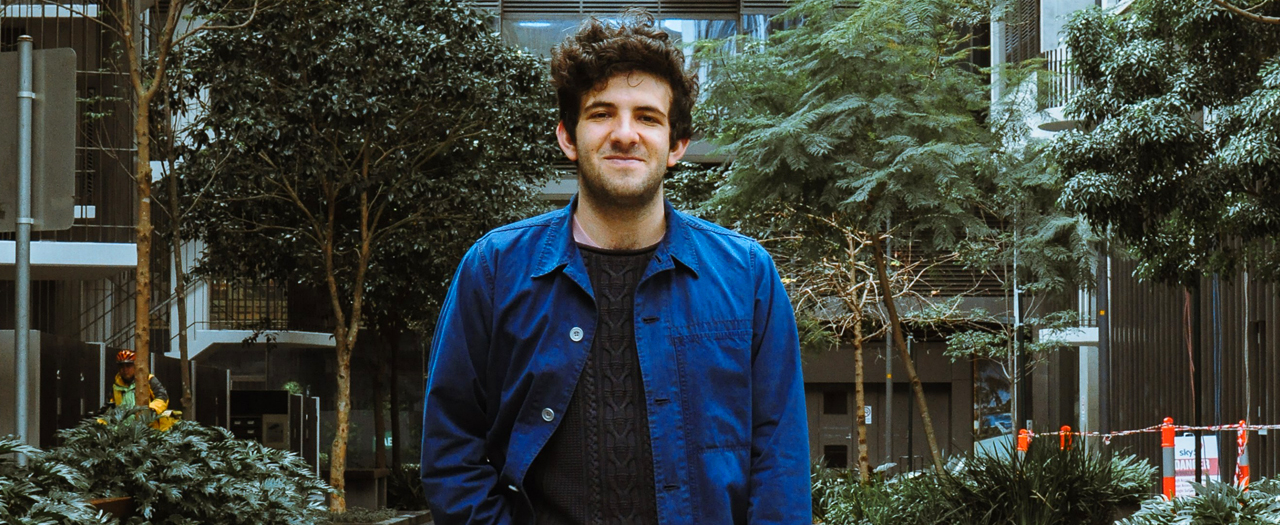 Zach Karpinellison does a few things. He finished up at UNSW last year doing his Honours in Film Studies, he works as a projectionist at Golden Age Cinema in Surry Hills and, more recently, he's worked for both the Persian and Sydney Film Festivals. He loves all things film and has tried his hand at writing about it. He's published a few things at Rough Cut and for SURG FM and hopefully lots more to come.
Zach's especially interested in the different versions of movies that circulate around the world. He wants to watch films both in cinemas, and as they've been edited and censored for their release on board a flight or in another country. He thinks that the future of cinema is a world where everyone is seeing a slightly different version of the same film. He doesn't know whether that terrifies him yet.
Outside of film, he co-hosts a radio show called Send Moods, where listeners send in what they're feeling, and he tries to match it to the perfect song. Zach is a huge fan of food. In fact, in the unlikely event it was him writing this bio in the third person, he would make a point of how excited he was that in coming to Melbourne he'd get to eat Australia's best bagels.
Twitter: @karpinellison
Website: No website but follow me everywhere @karpinellison.
Location: Based in Sydney.
Movie location you call home: Darryl's Castle from The Castle.
I'm looking forward to Critics Campus because: There are so many reasons to be excited. I can't wait to meet the other seven Critics Campus members and talk film with them. And of course, Critics Campus seems like an invaluable opportunity to hone my writing skills. Plus, I've never been to MIFF before, so even without the Campus I'm really looking forward to the festival. I feel so lucky!
Criticism matters in 2019 because: In 2019 there are so many different ways to engage with what we watch. Everyone binges TV, some recently sat through seven hours of Béla Tarr's Sátántangó (bravo tbh) at the Sydney Film Festival, and others only get to the cinema every once in a while. Criticism is the best tool to help us understand these experiences, as well as, of course, contextualising and evaluating the content of those experiences. I think these days we're much more aware of how the film industry, politics and money are deeply embedded in all the things we're watching and consuming, and so film criticism articulates a way of negotiating our viewing experience and taste, against those broader influences.
The biggest issue affecting film criticism today is: I think the term 'film criticism' is really changing. Newer critics are frequently freelance writers who, in addition to writing, appear on radio, podcasts and in videos across a range of publications and platforms. This is not necessarily a bad thing, but examining the contemporary value of the critic in a moment of job insecurity is important. Anyone can put their criticism online and this has democratised the form in wonderful ways, giving a platform to previously marginalised voices. However, the nature of online criticism has also reinforced the impression that criticism is a labour of love, and not something warranting payment. So, the biggest issue is how do we sustain a contemporary industry of film criticism, ensuring that all voices are supported financially and professionally?
Cinema excites me because: It's hard to resist a super earnest and sentimental answer here: I love cinema. It excites me because it's a deeply social medium that, when shared with others connects a room full of people in a flood of emotional responses. Cinema is exciting because part of the experience is watching not just the film, but the way people see and respond to the film. Films have triggered revolutions, they make people happy, they infuriate, and they continue to surprise. But what I'm trying to say is, cinema excites me because it matters so much to so many people. I think it's probably not a "universal" medium, but — just like art, music, literature or food — cinema asserts its own necessity, and it'll always be something people need in their lives.
The film or experience that made me want to write about film: Five years ago I was in my second year of my Film Studies degree at UNSW, and I saw a film that showed me why writing about film, understanding it and pulling it apart could bring me so much joy: Rainer Werner Fassbinder's politically-charged West German melodrama, Ali: Fear Eats the Soul. Every time I watch the film I see things I missed, that I need to think about and write down. Fassbinder's film taught me that watching something is only half the experience; the other half is voicing how it makes me think and how it challenges my previous understanding of this, and other films. I knew, in the moment of loving that movie, that I had to find a way to show more people how this film, and now countless others, affected me.
A critic that inspires me: I love Wesley Morris. His identity and politics are at the centre of his writing. He finds rich through lines between small, sometimes obscure independent work and major mainstream films. I'm in awe of his ability to balance the cultural and social context of a film with evaluation; I think that's something that I aspire to do one day.
A movie I changed my mind about: Okay so, I guess I don't really love this movie but Be Kind Rewind is my strange answer to this question. The first time I saw the Jack Black and Mos Def buddy comedy, I thought it was fine, nothing remarkable, and, if anything, a little naff. But having seen it twice since then I've realised that it's a love letter to VHS, which was a big part of my cinema upbringing. Be Kind Rewind ultimately taught me a lot about what it meant for everyone to share, rent, and interact with the same physical copy of a film. An experience not entirely lost to streaming, but one that made a sizeable impact on my childhood.
In my fantasy biopic, I would be played by: I should start by saying that in no fantasy of mine is a biopic made about me. I just do not think that anyone would want to see it (I guess if you do, I have a few fun stories?) That said, I have been told I resemble the animated character Linguini from Ratatouille (an amazing movie about criticism), so let's cheat and say him.
Favourite film of the year so far, and why: Super difficult question. This year I saw Bing Liu's directorial debut: the documentary Minding the Gap. It's an amazing doco that tracks the link between three skaters and their history with familial and domestic abuse. It's one of those films that critics love to call "hard-to-categorise" but it really earns that cliché by inviting your assumptions about why and who skates, only to, with surgical precision, dismantle them.
My MIFF 2019 theme song is: "The First Time Ever I Saw Your Face" by Roberta Flack (big Tsai Ming-Liang fan.)