Director: Zhang Ke Jia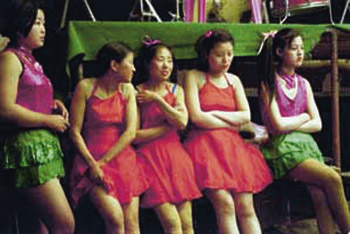 Platform (MIFF 01) is Jia Zhang-ke's ambitious follow-up to his highly successful debut, Pickpocket. Set over 1979 to 1989, it explores the tensions in expectations and world-views that emerge as China shifts from its isolationist Cultural Revolution years to its pop-cultural revolution of the 1980s. The film opens with a provincial theatrical troupe celebrating Chairman Mao and delivering the state's message through song and performance. But it soon becomes evident that a great gulf exists between the state's rhetoric of modernisation and the reality of provincial life. Central to the drama are two of the performers, Minliang and Chang Jun. With their fingers on the pulse of change, the pair seeks to live independently and take responsibility for their own relationships and futures. Platform brings together studied fragments in the lives of the main characters, which together deliver a richly textured drama chronicling the changing attitudes of a new generation. Jia establishes a wonderfully contemplative mood in this drama of cultural change, which was nominated for the Golden Lion at Venice in 2000.
D/S Jia Zhang-ke P Shojo Ichiyama, Kit Ming Li WS Celluloid Dreams L Cantonese, Mandarin w/English subtitles TD 35mm/col/2000/193mins
See also...