Director: Ilya Khrzhanovsky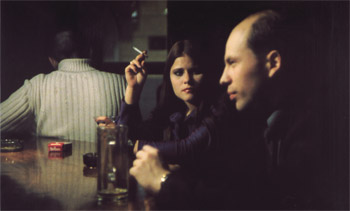 From its explosive beginning, Ilya Khrzhanovsky's 4 will satisfy those with an eye for the imaginative and an ear for the industrial. This unique and enigmatic Tiger Award-winning debut is based on a story by controversial author Vladimir Sorokin, who co-wrote the screenplay with Khrzhanovsky. The film employs an evocative and original visual language to convey a confounding vision of contemporary Russia. The film opens with three barflies exchanging stories of dubious truthfulness: a prostitute says she works in advertising; a piano-tuner claims to work in organic chemistry research; and a businessman in the meat industry claims he works in the president's office. Only the barman is who he is, but arguably there is an association between the real and the not-so-real worlds of each. As the action moves from the bar to the world beyond, the lives of these disparate characters unfold to reveal a layered, disaggregated and imaginative vision of contemporary Russia. Perhaps unsurprisingly, 4 was banned in its home country for its dissident politics. Ilya Khrzhanovsky will be attending the festival.
D Ilya Khrzhanovsky P Yelena Yatsura S Vladimir Sorokin WS The Co-production Office L Russian w/English subtitles TD 35mm/ col/2004/126mins. Ilya Khrzhanovsky was born in Moscow, Russia, in 1975. His films are A Stop (1998, short), 4 (MIFF 05).
See also...