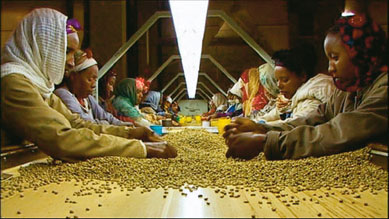 Black Gold was nominated for the World Documentary Grand Jury Prize at this year's Sundance Film Festival.

Multinational coffee companies now rule our shopping malls and supermarkets, dominating an industry worth over 80 billion dollars, making coffee the most valuable trading commodity in the world after oil. But despite what we continue to fork out for our lattes, the price paid to coffee farmers has dropped to the point that means many have been forced to abandon their coffee fields.
Black Gold investigates the machinations of the lucrative industry, from the stock exchange trading floor to the poorest of the world's farmers. Rather than simply indulging in easy anti-corporate pot shots, however, Black Gold introduces us to the human faces of the lopsided industry, most notably to Tadesse Meskela, the Ethiopian co-op manager on a mission to save his 75,000 struggling coffee farmers from bankruptcy.
Against the backdrop of Tadesse's mission to find buyers willing to pay a fair price, the more powerful sides of the international trading system begin to unfold.
---
D/P Marc Francis, Nick Francis WS Film Sales Company L English, Amharic, Oromiffa TD HDcam/2006/78mins
Marc Francis was born in London, UK, in 1975. Nick Francis was born in London, UK, in 1978. Black Gold (2006) is their feature film directing debut.