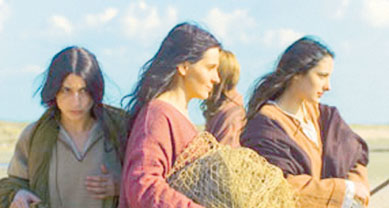 "Its own double bill - a response to The Passion of the Christ… a fantastic amalgam of Mel Gibson and Ferrara himself." - Village Voice
Tackling issues of faith and redemption in these cynical times, Mary sees controversial American director Abel Ferrara channelling his own persona through his lead character - an independent auteur filmmaker who also plays the role of Jesus Christ in a film he's shooting in Italy.
Juliette Binoche top-lines an eclectic cast as the actress playing Mary Magdalene who then embarks on her own spiritual journey to Jerusalem on the conclusion of the shoot. Matthew Modine is the director-turned-Christ, while the wild casting of Forest Whitaker and Heather Graham as husband and wife sees Whitaker play a cuckolding journalist in New York who interviews the film director on his TV show examining historical truths behind Christ.
A multi-award winner at the Venice Film Festival.
---
D Abel Ferrara P Robert De Nigris, Fernando Sulichin S Simone Lageoles Dist Accent Films TD 35mm/col/2005/83mins
Abel Ferrara was born in New York, USA, in 1951. His films include The Driller Killer (1979), Bad Lieutenant (1992), The Funeral (1996) and
R Xmas (MIFF 2001).