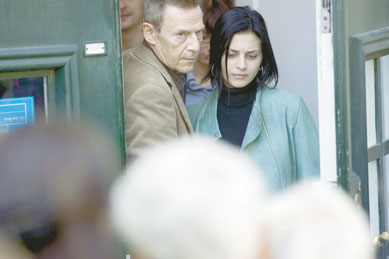 A major domestic box office and critical success, Manslaughter bears the hallmarks that have made recent Danish cinema substantial and constantly challenging.
Fifty-two-year-old Carsten (Jesper Christensen) is a popular, much-respected high school teacher. He is married to Nina and they have a son, Tobias.
Carsten is having an affair with a former student, Pil, who is an extreme left-wing activist. One night, Pil is part of a raid that goes wrong and a policeman is killed. Pil and two other activists are arrested. Carsten's affair is revealed and he leaves his stunned wife to devote all his resources to supporting Pil. But a policeman is dead, two families are destroyed and guilt begins to grow slowly but surely.
In portraying the disruption of Carsten's middle-class comfort and safety, Christensen's performance, the anchor for the film, goes beyond drama and heads towards the realm of great screen tragedy. Manslaughter confirms Per Fly as a major Scandinavian director.
---
D Per Fly P Ib Tardini S Kim Leona, Dorte Høgh, Mogens Rukov,
Per Fly WS Trust Film Sales L Danish w/English subtitles
TD 35mm/2005/103mins
Per Fly was born in Denmark in 1960. His films include The Bench (2000), Prop and Berta (2000) and The Inheritance (2003).