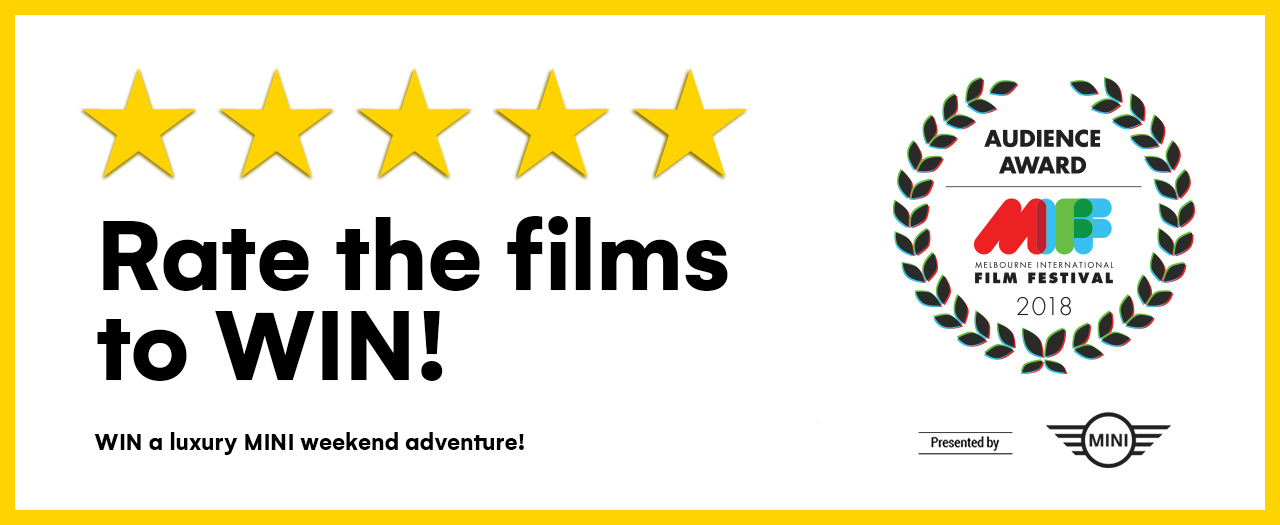 2018 MIFF Audience Awards
Presented by MINI
Each year the MIFF audiences have their say by rating films throughout the festival via the MIFF app or website. At the end of the festival the Top Ten Feature Films and Top Ten Documentaries are then announced. View the past several years of Audience Award winners.
Everyone who rated a film went into the draw to win a luxury MINI weekend adventure!
Congratulations to winner Adinda Uneputty, who won the amazing prize package valued at over $3895 and which included:
The prize is valid for 12 months from 1 September 2018 –31 August 2019.
To rate films, you must be logged into your account, either here on the MIFF website or on the app.
Once logged in, go to the page of the film you wish to rate. Look for Rate This Session, followed by five stars (on the website, it's located near the bottom of the page, under the ticket info; on the app it's near the top, under the film's run time).
Select the number of stars you wish to give the film by either tapping (on the app) or using your mouse to select, then follow the instructions.
Ratings:
Instant Classic – 5
Excellent – 4
Good – 3
Fair – 2
Poor – 1
Please note: you can only rate each film once. You cannot rate a film until after it has screened. After it has screened, you can rate it at any time until the end of the festival. If you have any questions or concerns about rating a film, please contact our Box Office on 8660 4898.
NOTE: Retrospective and and restored films, and the MIFF short films, are not eligible for the MIFF Audience Awards.
View the terms and conditions.