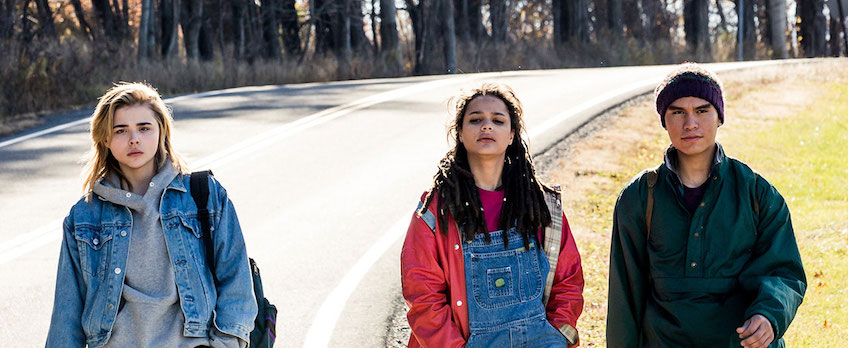 The Miseducation of Cameron Post, Four Ways
Part of the 2018 Melbourne International Film Festival Critics Campus involved our participants taking part in a live-editing workshop. Four of them reviewed Desiree Akhavan's The Miseducation of Cameron Post, and then edited their drafts with Annabel Brady-Brown. Read their final reviews below – and don't forget to check out all of our Critics Campus coverage.
Review by Ivana Brehas
In The Miseducation of Cameron Post, Desiree Akhavan undertakes the difficult task of trying to infuse humour into a world of trauma and emotional abuse. The film follows queer teenager Cameron Post's (Chloë Grace Moretz) attempts at surviving a Christian conversion therapy camp in 1990s Montana. The absurdity of conversion therapy is certainly laughable, but Akhavan's comedic framing of horror seems to prioritise audience comfort, shying away from grim realities through the "tension-release" model identified in stand-up comic Hannah Gadsby's Nanette (2018). Yet Akhavan's use of comedy also functions to bring the audience's guard down, and a shocking moment of violence near the end of the film suggests that its humorous moments act to lull viewers into a false sense of security. Though occasionally successful, this approach often makes the film feel tonally confused.
Still, Miseducation is an admirable reinterpretation of the well-worn tropes of teen movies. Jane Fonda (Sasha Lane) and Two-Spirit teenager Adam (an outstanding Forrest Goodluck) function as Post's quirky stoner friends, a queer facsimile of trios seen in films like Ferris Bueller's Day Off (1986), though they are short-changed by their underexplored backstories. The film also features a high school prom, heartless authority figures, and the obligatory anarchic, jumping-on-tabletops song-and-dance sequence. Akhavan's take on these familiar scenes makes Miseducation highly accessible to a mainstream audience, while also revealing the ways in which homophobia denies queer teenagers the joyous 'teen-movie' experience. Miseducation's adults are not simply irritating, but physically and emotionally abusive; the singing is cut short by their menacing conversion 'therapist'.
Refreshingly, the film is satisfied with friendship, and doesn't force a romantic or sexual angle on Cameron and Jane's relationship. Indeed, the sexual activity that does occur in the camp is bleak and heartbreaking. Instead of imposing implausible arcs for narrative's sake, Miseducation aims for realism through its rejection of a clear-cut happy ending, and leaves the film on an ambiguous note reminiscent of The Graduate (1967). While the bulk of Miseducation allows audiences to sidestep the gravity of the situation through laughter, Akhavan astutely withholds any "release" in its ending. Though certainly not a misfire, Miseducation's reluctance to delve deep into the horrific truths of conversion therapy prevent the film from reaching its full potential.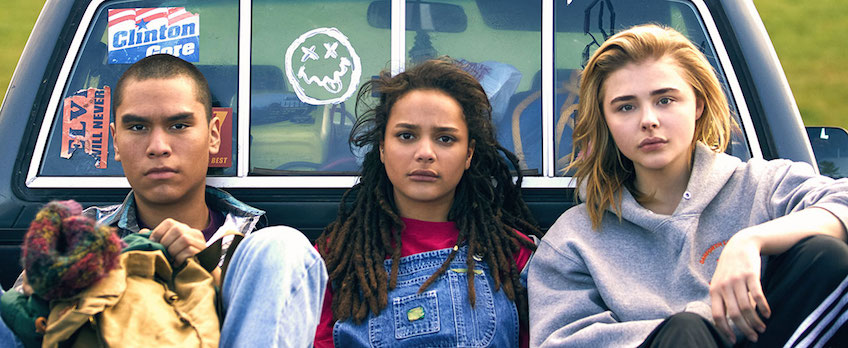 The Miseducation of Cameron Post
Review by Debbie Zhou
It's fired like an arrow at truth: "How is programming people to hate themselves not emotional abuse?" Cameron Post (Chloë Grace Moretz) shoots this line straight into the heart of the hypocrisy of the gay conversion camp to which she is sent in Desiree Akhavan's The Miseducation of Cameron Post. It's a bullseye moment for a film that seeks to rip into a society that can demonise vulnerable teens exploring their sexuality. But only a few such moments land.
It's 1993 in conservative Montana and homosexuality is still classified as an illness, even according to the American Medical Association. Upon discovery of her lesbian relationship Cameron is sent to a gay reform camp, "God's Promise". There's a "cure" for her, according to the institution's leaders, impassive, Nurse Ratched-like Dr. Lydia March (Jennifer Ehle) and her "converted" brother Reverend Rick (John Gallagher Jr.), who equates homosexuality with sin in terms of a cringe-worthy iceberg metaphor.
This is co-writer and director Akhavan's follow-up to her wryly funny debut, Appropriate Behaviour (MIFF2014), and this time she reaches for the higher stakes of a self-discovery narrative. Trapped in the facility, at times Cameron falls in line, at times she mutinies. She participates in prayer recitals, and has a warm relationship with Reverend Rick, but also befriends rebels Adam (Forrest Goodluck) and Jane (an under-utilised Sasha Lane). Frustratingly, however, her motivations are unclear, and with Cameron in the backseat of her own emotional development, Moretz's otherwise invested performance feels distant and a little colourless, especially in contrast to the enjoyably idiosyncratic supporting characters.
At a time when we're being gifted with LGBTQI+ stories that are both formally challenging and socially progressive, Cameron Post doesn't add much to the conversation. The beats are predictable and Akhavan's understated direction softens a painful story into an easy watch. The missed opportunity is that this kind of Sundance indie, no matter how successful (The Miseducation of Cameron Post won the 2018 Grand Jury Prize) is unlikely to speak to communities who don't already share its obvious good intentions. So despite the shocking reality that conversion centres remain legal in today's America, Akhavan's choice to set her film within a slightly nostalgic past blunts its impact. If the cruelty and wrongheadedness of the idea that it is possible to reprogram sexuality is already pre-established fact, the question becomes who, exactly, is The Miseducation of Cameron Post designed to convert?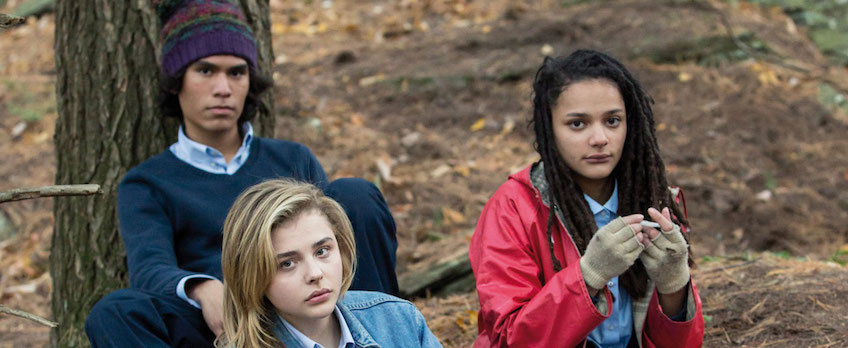 The Miseducation of Cameron Post
Review by Valerie Ng
The Miseducation of Cameron Post, the new film from Appropriate Behaviour (MIFF2014) director Desiree Akhavan, chronicles an insidious form of oppression – the manipulation of identity by a sectarian whip. It reviles, though without much thought, irrational structures of religious morality. Cameron Post (Chloë Grace Moretz) is a teenager in 1993 Montana whose sexuality precedes any character exposition. Towards the beginning of the film, she is caught having sex in a car with a female classmate on prom night, and is promptly sent to a rural Christian conversion camp called God's Promise. She takes one look at the surrounding woodland, the American flag, the narrow lawn, the brick-lined walls, and whispers: "Fuck."
Luckily, she is not alone. Cameron and her two new pals (Sasha Lane and Forrest Goodluck) go on hikes, smoke weed and take polaroids; they have illicit fun and talk snidely. Their faces frown and barely twitch. Post herself, with a swipe of blonde-brown hair, and whose face is in constant close-up, is a thinker not a reactor – her warm-breeze chill does little to betray any interior complexity. Moments of confusion are rarely shown: at prom she's uncomfortable in her own skin and smears off red lipstick; she says to a camp leader, "I don't think of myself as a homosexual. I don't really think of myself as anything." In constructing these cinematic characters, drawn from Emily Danforth's 2012 novel of the same name, Akhavan seems to confuse youthful vacuity with nuance. The other kids in the camp, whose internal conflicts are exposed more freely, are treated merely as objects of observation—this focus on Cameron's cop-out blankness lazily bypasses any approachable poignancy.
Through the metaphor of an iceberg, students are told that their homosexuality is merely the tip of a beastly underwater assortment of pubescent missteps: absent parents, too much sports, drugs, alcohol, or confused platonic admiration. Akhavan and co-writer Cecilia Frugiuele present this reasoning as laughable, but don't engage further. The message that comes out of the film is flat – conversion therapy camps are abusive, and the incontestability of this idea seems to discourage the writers from exploring beyond this.
Ultimately, Cameron Post is a light, breezy flick about the unjust rigor of conversion therapy. So much more could be said, and so much more could be felt. But unfortunately, the film is little more than its synopsis.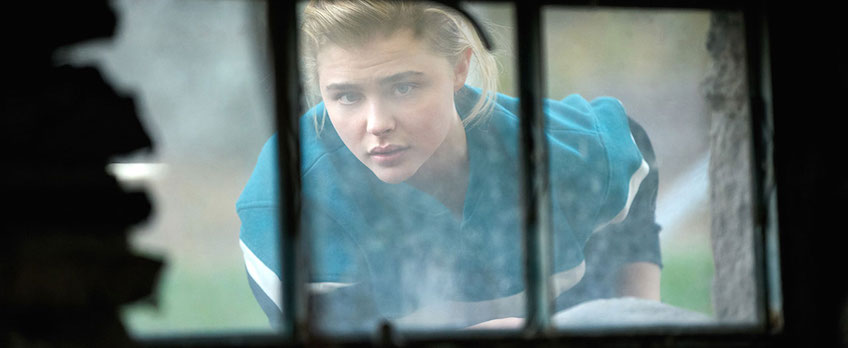 The Miseducation of Cameron Post
Review by André Shannon
Desiree Akhavan's The Miseducation of Cameron Post follows a trio of wickedly cool teens in the early 90's who are sent to a gay conversion therapy camp by their guardians to be 'cured'. What starts as some young queer kids middle-fingering religious indoctrination by dropping deadpan lines à la Diablo Cody blossoms into a surprisingly subversive coming-of-age film; if anything, an evocative insight into '90s queerdom.
The film follows the teenagers at God's Promise – a prison-like cult run by extremist Christians whose job is to convert SSA (same sex attraction) into JCA (Jesus Christ attraction). Trapped at the cult are Cameron, played very convincingly by Chloë Grace Moretz, her rebel friend Jane Fonda (Sasha Lane); and Mark (Forrest Goodluck), who identifies as Winkte and whose long hair is forbidden at God's Promise for hiding them from God.
Cameron Post nails textures and dialogue, mixing Greg Araki's rebellious teens within a Sundance-winning American Indie format. It shamelessly pokes fun at the outrageous backbone of brainwashing; the "blessercize" workout videos the kids are subjected to attribute fitness to being a good Christian are in fact real videos! But beneath every witty dig at hetero-propaganda is a reminder of the smothering straight culture that is trying to break these kids. Cameron Post could sate the hunger of gay audiences keen on these stories especially when their real queer family is formed in their search for acceptance.
Cameron Post observes queer kids awkwardly inserting themselves into institutions. In the film wearing "make-up" and going to "prom" are shown to be hotbeds for anxiety. Cameron's uncertain expression of her identity suggests how hard it is to feel anything in the midst of all the largely straight manufacturing of teen identity, especially when her expectations of herself are so confused. The struggle for self-determination isn't a joke in the film, especially when another young character hits breaking point.
Film isn't responsible to inspire social change, and Cameron Post doesn't choke with its agenda. But we are seeing Cameron Post here and now, amidst the divisive ways of seeing American culture on screen. Cameron Post forms part of the catalyst for positive change, and when adults stop telling people how to feel, films like this may cease to exist. Until then, queer audiences have Cameron Post to look to for community building and survival.
The Miseducation of Cameron Post played at the Melbourne International Film Festival on 4 and 6 August 2018.