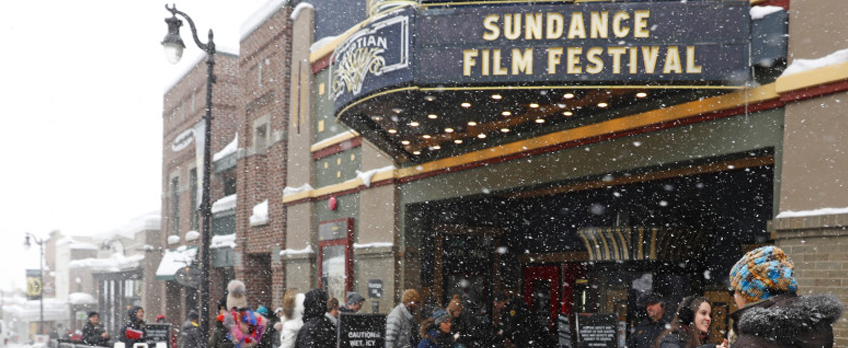 Sundance Report
Upon telling people that I attended the Sundance Film Festival this year, the first thing I'm asked is if I saw any celebrities, so let's get this out of the way first: John Lithgow walked past me while I was queuing for a film, I ate lunch at a table next to where Demi Moore was having her lunch, one of the actors from The Death of Dick Long cut in line ahead of me at the supermarket, and I stood next to Boots Riley at a urinal. I took a photo of John Lithgow; the others didn't feel appropriate.
One of the documentaries that caught my attention was Knock Down the House about four women taking on the Democratic Party elites during the US primaries. Inevitably focusing on Alexandria Ocasio-Cortez, it is an exciting and inspiration underdog story. My other favourite documentary was Memory: The Origins of Alien, the new film by 78/52 director Alexandre O Philippe. Far more than a making-of doc, it goes deep into the mythological basis of Alien and how that classic film reflects cultural anxieties and the collective unconscious. Now that's my kind of criticism! Memory played in Sundance in the much loved Midnight section, which also included the chilling The Lodge, by the filmmakers behind Goodnight Mommy, and the really fun Little Monsters, a terrific genre mash-up by Australian writer/director Abe Forsythe (Down Under).
Speaking of Australian filmmakers, one of my absolute highlights of the festival was Animals, by Australian director Sophie Hyde (52 Tuesdays). Co-starring one of MIFF's major guests from last year – Alia Shawkat – Animals is a freewheeling comedy/drama about two late-20-something women living in Dublin who come to a major crossroad in their lives. It was one of many smart, fun and moralising-free films about young women examining their identities that included The Farewell, starring the increasingly prolific Awkwafina, and the Brittany Runs a Marathon, starring Jillian Bell.
Two fictionalised films based on true stories from the wake of 9/11 reveal the power of exposing the truth and the great personal cost that can come with it. In The Report Adam Driver plays US senate staffer Daniel Jones who despite immense opposition was a key figure in exposing the CIA's misguided, ineffective and immoral use of 'enhanced interrogation techniques'. Meanwhile in Official Secrets Keira Knightley plays British secret-service officer Katharine Gun who leaked a top-secret memo upon realising the coalition of the willing were going to war on false and possibly illegal pretences.
However, the based-on-a-true-story film that most caught audiences (including me) by surprise was Honey Boy, which was written by and starred Shia LaBeouf, inspired by his own troubled upbringing. What could have been horribly indulgent is instead a beautiful and poetic memoir film in the hands of Bombay Beach director Alma Har'el. Another pleasant surprise was the gloriously chaotic and hilarious Give Me Liberty, where Russian-born filmmaker Kirill Mikhanovsky brings a distinctively Eastern European style of humour to small town Milwaukee.
It was wonderful finishing on two glorious coming-of-age, crowd-pleasing films. With Allison Janney and Viola Davis in key supporting roles, Troop Zero is a 1977-set film about an unconventional group of kids who form a Girl Scout troop in order to enter a competition to be recorded on NASA's Golden Record. And in Blinded by the Light writer/director Gurinder Chadha (Bend It Like Beckham) tells the story of a Pakistani British teenage who in 1987 discovered Bruce Springsteen, against the backdrop of Thatcher's Britain and the rise of the National Front. It deals with culture clash, friendship, first love and the transformative power of music. Leaving the cinema into the cold night air with an entire audience of people singing the Springsteen song playing over the end credits was a pretty great way to conclude Sundance.
- MIFF Programmer, Thomas Caldwell
Thomas Caldwell is the MIFF Programmer, and he's worked for the festival since 2012, initially as the Shorts and MIFF Schools Programmer. Prior to working at the festival Thomas served on the MIFF Shorts Awards jury in 2010 and was one of the festival's bloggers in 2011 for MIFF's 60th anniversary. Thomas has been attending MIFF since 1995 and outside of the festival works as a freelance critic, writer and broadcaster.