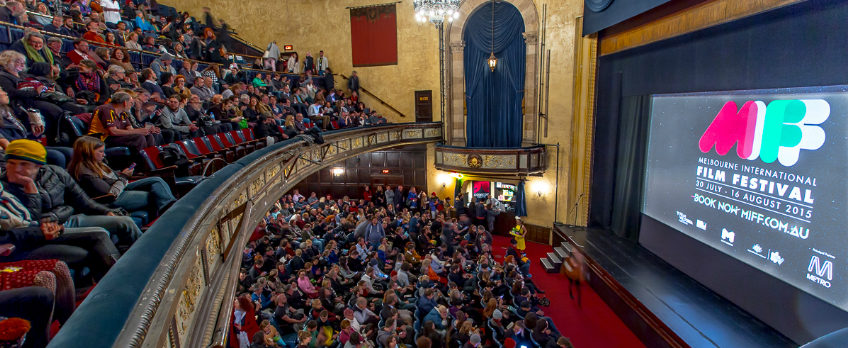 Behind the Curtain with MIFF: The Comedy Theatre
Putting on a film festival the size of MIFF is like an immense 3D jigsaw puzzle, but the pieces are alive and not just constantly changing shape but also playing hide and seek with one another! To give you a peek at how it all comes together, we'll be running an occasional series paying attention to the man – or, rather, men and women and mechanics! – behind the curtains. First up, wherefore The Comedy Theatre?!


After the closure of Greater Union in 2014, we went on the hunt for new venues to make sure we could still put on a festival of the size and scale that Melburnians have come to expect. We were very lucky and grateful to be able to secure The Comedy Theatre for the first time last year.
Like MIFF, The Comedy is a significant part of the cultural fabric of Melbourne. Established in 1928 – a year before our other historic venue, The Forum – it's architecturally stunning, with a replica Florentine palace exterior and an ornate Spanish-inspired interior. And just like The Forum, as a vintage venue it doesn't come fitted out with all the 21st-century luxuries; but what it lacks in deluxe armchair seating it more than makes up for in both size (it's by far our biggest venue, which enables more of you to see our biggest films, even when we're only allowed two screenings) and charm. Also, there's a bar in the cinema! We are extremely fond of this lovely old dame of Melbourne architecture.


For our second year in The Comedy, MIFF's tech team – led by the wonderful David Thomas, celebrating his 30th year with the festival this year! – has been plotting and planning how they can keep improving the experience for filmgoers. First off, we heard your feedback about the sound. She's a theatre designed for live performances, so we're installing speakers in the Juliet balconies to create surround sound. We have also increased the screen size, and made the projection booth larger to minimise noise bleed.
For the tall folk out there, unfortunately we are not allowed to replace the seats with beanbags! But we all survived the Greater Union's bottomless pits that passed for seating, and we all know those Forum Theatre seats have a few rogue springs to avoid as well. It's not perfect, but we think there's a lot to love about The Comedy, and having it in our ever-evolving jigsaw puzzle helps us put on the festival we all know and love; it helps us secure and screen many of the films you want to see at MIFF.
And we have made sure not to program any five- or eight-hour films in either Comedy or The Forum. But if you are doing a double- or triple-header, perhaps consider a little light stretching in between sessions to get the blood flowing again!