On Dries and Rethinking the Fashion Documentary
By Phoebe Chen
Sunlight falls through a leafy canopy as a pale blonde emerges from the depths of a forest, treading moss to the sound of birds and the intimations of an orchestra. But the 'moss' is a carpet woven by Argentinian artist Alexandra Kehayoglou, and the woodland ambit, an artificially-lit runway somewhere in central Paris, built for Dries van Noten's 2015 Spring Ready-to-Wear collection. It's also the opening shot of Reiner Holzemer's latest documentary, Dries, which follows the designer over the course of a year as he conceives four collections in his Antwerp offices. For Dries, the fashion show is intended as a final act that translates his process of conceptualising a collection, an evocation of ambience that contextualises the clothing as part of a broader experience. There's something distinctly cinematic about clothing being inseparable from mood and performance, rooted in a context beyond seemingly seasonal whims.
Global systems of image-proliferation have allowed the inherently aspirational industries of fashion and film to posture as accessible, because fantasies are unsellable without a willing audience. The two industries share a strong symbiotic history – cinema has been a successful vehicle for fashion design, from the famous Givenchy/Audrey Hepburn partnership to the Prada-backed wardrobe of Baz Lurhmann's The Great Gatsby. Vice versa, fashion has been instrumental to our visual codes of understanding character and reading ambience in film. Costuming that has acquired cult status elevates both character (and actor) in the cultural imagination –Diane Keaton pulls off the bowler hat and waistcoat get-up in Annie Hall (Woody Allen, 1977) with trendsetting aplomb; Keira Knightley's Cecilia Tallis dons a satiny green vision in Atonement (Joe Wright, 2007) to collective swoon (courtesy of British costume designer Jacqueline Durran).
Fashion, too, is predominantly consumed in a decontextualised state, fetishised as singular trend objects without reference to the history of the tangible product itself.
Over the years, both fashion and cinema have relied on the photographic image to sustain illusion, cultivating a persuasive cultural vocabulary. Image-sharing platforms like tumblr and Pinterest have incredible potential as archival tools, but are primarily used for ad-hoc image consumption. Fashion, too, is predominantly consumed in a decontextualised state, fetishised as singular trend objects without reference to the history of the tangible product itself, nor the history of its conception.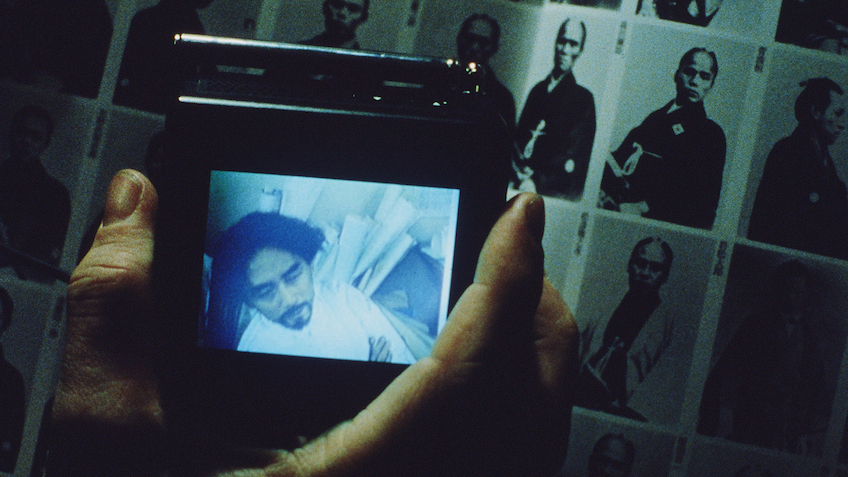 Notebook on Cities and Clothes (Wim Wenders, 1989)
But these purveyors of fantasy have sought to deconstruct their careful images. In the past decade, the fashion documentary subgenre has risen in tandem with shifting expectations of media access. Wim Wenders' Notebook on Cities and Clothes (1989) follows Tokyo-based designer Yohji Yamamoto as he completes his first Parisian women's wear collection. Towards the end of the film, Wenders arrives at the now-obvious conclusion that "a language of images was not the privilege of cinema". While Wenders' may have felt ill at ease with his handheld video camera in 1989, these mediated intrusions have come to define the fashion industry. That the industry is an incubator of extreme stress and incessant anxiety is no longer revelatory – the exposé is tired and ubiquitous in a world with Periscope and Go Pro. When you can watch the Met Gala red carpet from Snapchat and view backstage runway footage on Instagram stories, visual access is no longer a compelling feature. What's interesting is the way we've assimilated this knowledge into the pre-existing fantasy – we've reconceived the behind-the-scenes approach as a new, curated object that projects candour but casually reaffirms the glamour we know to be laboriously-constituted, yet still buy into. There are, of course, individual roadblocks that remain – Holzemer's documentary has been so widely anticipated by the industry because of Dries' notorious privacy. But despite its skilful construction, Dries feels too familiar for a documentary made in a context of such rampant technological change.
The cultivation of beauty takes work, we are reminded, and the sheer volume of this work demands our respect.
It's perhaps unsurprising that documentaries of this kind emphasise process, magnifying the labour of production as if pre-empting critiques of superficiality. The cultivation of beauty takes work, we are reminded, and the sheer volume of this work demands our respect. As Holzemer observes in an interview with ShowStudio, documenting fashion design has allowed him full visual access to almost all stages of production, unlike his previous experiences with documenting photographers William Eggleston and Jurgen Teller.
In fashion documentary, we can access multisensory modes of participation that mediate the long gap between conception and final product, such is the nature of collaborative production in the industry. Holzemer's camera lingers on Dries and his team as they caress fabrics together, a reminder of the tactility that informs design. Frédéric Tcheng's Dior and I (MIFF 2014) takes a similar approach, following the newly appointed creative director, Raf Simons, as he is tasked with designing a couture collection in a mere three weeks. Tcheng turns the camera on the atelier seamstresses who hand-sew every accent, cut every line of silhouette.
Lagerfeld Confidential (Rodolphe Marconi, 2007)
While other profile documentaries like Rodolphe Marconi's 2007 film Lagerfeld Confidential (MIFF 2007) and Matt Tyrnauer's 2008 Valentino: The Last Emperor (MIFF 2009) sparingly incorporate manufacturing footage, they apotheosise the fashion designer and their singular approach, feeding off the 'visionary' aura that comes out of industry acclaim. Even those that aspire to be more than thinly-veiled star vehicles filled with celebrities and industry luminaries, fashion documentaries frame creative directors and designers to be in pursuit of borderline Platonic ideals, burdened with a commitment to beauty and the crippling perfectionism that accompanies it. But it's so easy to critique the insularity of an industry that has always traded in fantasies of self-definition, operating at an intentional remove from the world at large.
Where Holzemer and Tcheng take fly-on-the-wall approaches, Wenders allows himself more authorial intrusion. Notebook is, after all, considered one of his 'diary' films, along with Tokyo-Ga (1985). In Notebook, Yamamoto is a conduit for Wenders' own questions about authorship and geography, all while remaining the film's main focus. Of course, the extent of creative licence is bound with questions of funding; where Notebook was funded by the Centre Pompidou, Lagerfeld Confidential was financed by private equity investors, and it shows. It's this sense of innovation that's missing from fashion documentaries now, a conceptual risk-taking that could elevate the genre beyond the exhausted formal conventions that presently define it.
Dries is screening on 14 August at 6.30 pm