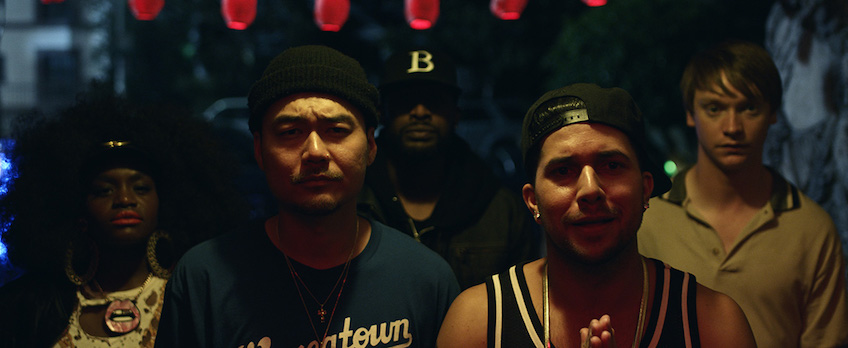 Bodied: Look What You Made Joseph Kahn Do
by Sam Harris
On one hand, there's the world of music videos which Joseph Kahn inhabits, a world of Taylor Swift collaborations where the 45-year-old Korean-American provocateur pokes the Beyhive with a cascade of tweets, plugging Swift's latest record-breaking single across the Twittersphere. On the other, there's the world of film into which Kahn dips his toes every half-dozen years or so. It's for movies like 2004's Fast & Furious riff Torque and 2011's genre-swallowing teen horror-comedy Detention that Kahn puts millions of his own dollars on the hook because he wants – as he's recently tweeted – "to entertain the fuck of out you."

That big-screen world is not so distant from Kahn's ongoing Swift collaborations (now clocking in at eight videos, total view-count somewhere in the billions). There's a distinct rhythm to his films that caters to an internet-savvy audience: a rapid-fire, attention-deficit mode of filmmaking where every frame begs to be paused and rewatched and shared. Enter Bodied, Kahn's first film since making his Bad Blood pact with Swift. Recently picked up by YouTube Premium, it's the platform's latest foray into the paid-streaming landscape.
Bodied will thus share pixel-space with original programming by personalities familiar only to primary schoolers and – more peripherally – to the parents who dare ask how people who sound like this actually make money. Here, Kahn's film is an anomaly: Look What You Made Me Do might shuffle through autoplay unquestioned; Bodied, however, will inevitably summon a prompt for parental permission.
Taylor Swift "Look at What You Made Me Do"
Bodied is… a "battle rap" film. This is far from a ubiquitous genre, as Kahn himself has said. Its most obvious predecessor is Curtis Hanson's 8 Mile (2002) – which now looks (even more) anodyne in the light of Bodied. Kahn is actually no stranger to fellow provocateur Eminem: their video-collaborations date back to 2002's "Without Me" and Marshall Mathers now serves as sole producer on Bodied. Kahn is happy to riff on 8 Mile at his collaborator's expense. But whereas that film is an autobiographical fever dream, Bodied revels in the absurdity of battle rap as a practice, uses it to encapsulate the current state of culture in which Kahn lives, breathes and tweets.
We see this subculture through the eyes of Adam, (Calum Worthy): this lanky, pasty-faced white kid plans to write his grad-student thesis on the poetics of battle rap but is sidetracked after discovering his own surprising skills in the lyrical field. The lifestyle of the (not so) rich and (not so) famous prove enticing: Adam dives headfirst into Fight Club-esque subterranean chambers where, in the arena of rap, anything goes. Down here, the limits of free speech are tested – what consequences can and/or do words have?
Adam soon learns that the only way to be successful is to lean into the stereotypes of his opponents… and before we know it we're in an unmoderated YouTube comment section, slur after slur only making the crowd louder and louder. With a script upon which Kahn collaborated with ex-battle-rapper Alex "Kid Twist" Larsen, the bars that these fictional rappers proceed to spew are more cohesive than any humanly-possible retort. And that's half the fun: the oneupmanship extends to ludicrous lengths where it feels like the entire Urban Dictionary has been printed, filed, verbally reconfigured and weaponised.
In an extremely on-brand interview with Buzzfeed, Kahn tells that he wanted to create "a world where a white guy and a black guy could make completely racist jokes against each other … and then they go get a beer together." It's a premise that lends itself well to the current state of internet culture – the most heinous shit can be said when you're hiding behind a mask, or under the guise of performance.

Simultaneously, Bodied interrogates this "identity politics stalemate" and gives room to float all these ideas without doubling down on any particular indictment. The self-reflexive mode it assumes, like all of Kahn's work, constructs a shield which is effectively invulnerable to criticism. He anticipates your reaction, writes it into the script and then spits some satirical version of yourself back onto the screen… and then laughs at you all over again.
It's the cinematic equivalent of the "I forced a bot" Twitter meme about making a neural net watch a thousand hours of any given television show and produce a script - except Kahn's bot was forced to scroll 2018's entire Twitter feed and produce a film around that, while exposing itself as the fake bot that it really is in the process. We see ourselves in the film, our assumptions are challenged, and Kahn tries to deconstruct the who, what, where and how of our preconceptions.
At one critical juncture, Adam discovers that his mentor/idol, battle rap veteran Behn Grymm (Jackie Long) is a family-man game-designer, a far cry from the thug persona with which he armours himself. Adam is taken aback, and Kahn subverts this trope while pointing a finger at the audience for assuming that was ever the case.
During such startling moments, one is grateful that Kahn takes a break from the lucrative world of music video and puts his "millions" on the line for these things. Bodied serves up entertainment that's as exciting as it is insightful: a crucial airing of unspoken prejudices powered with sufficient energy to move mountains… Are we ready for it?
Bodied is playing 18 August at Hoyts.