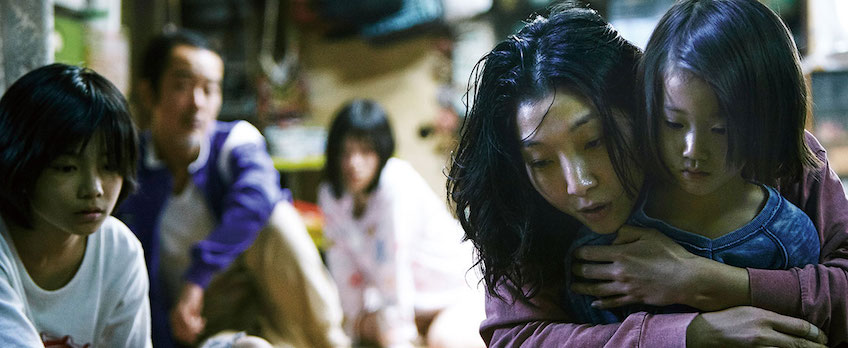 Shoplifters, Four Ways
During the 2018 Melbourne International Film Festival Critics Campus, our participants took part in a live-editing workshop. Four of them reviewed Hirokazu Kore-eda's Shoplifters, and then edited their drafts with Nick Feik. Read their final reviews below – and don't forget to check out all of our Critics Campus coverage.

Review by Sam Harris
Sitting on the back steps, holding little Yuri (Miyu Sasaki) close, 40-ish Nobuyo (Ando Sakura) tightens her grip and whispers, "If they love you, this is what they'll do." Nobuyo refers to the biological parents who neglected Yuri to the extent that she was abducted by another "family," known as the Shibatas. The camera softly pushes in on the hug between an adult and a child – both coincidentally bearing forearm scars – accentuating this little moment of motherly love. It follows a scene in which, upon inspecting Yuri's arms, Nobuyo has intuited the little girl's situation: they sit together in the bathroom comparing scars, the two sets of burns – one imposed, one accidental – mirrored on their limbs. It's the moment Nobuyo, originally apprehensive about welcoming another recruit into their ragtag band of shoplifters, realises they're doing the right thing in rescuing this child of abuse. To them, Yuri had been "thrown away" by her family and subsequently "found" by them. Sitting alone and famished on the veranda of her home, she'd been lured by the enticing sight of a warm croquette into the Shibatas' company. Their rationale: "It's not kidnapping, we're not asking for a ransom." They do not take: they give.
Yuri, who has never been to a beach before, is taken on a trip to the seaside. As the waves roll in, she recoils. "It's so cold!" This time, it's twentyish Aki (Mayu Matsuoka) who takes the child in her arms. Their warming embrace is more casual than Nobuyo's, an action placed in the wider family context, initial anxieties having given way to natural intimacy. This group of people – the Shibatas and Yuri – strung together by chance, love (and, equally importantly, money) appear, if only for a moment, like any regular kinfolk. They kick through the wash, jump the waves. Out in the ocean, Osamu, the "father" (Lily Franky), talks to his "son", Shota (Jyo Kairi), who is coming to terms with puberty. Grandma (Kirin Kiki), the overseer of the family, lounges under an umbrella and quietly observes. Watching them splash about and chase each other in flimsy bathing-suits, she whispers "thank you" to herself – implicitly addressing the family she's found and nurtured. However fleeting this interlude may be, in the minds of the Shibatas, all seems well. Aki's embrace of Yuri is by this stage and in this setting is no more or less than a simple, unremarkable moment of contact between one family-member and another. Nothing to write home about.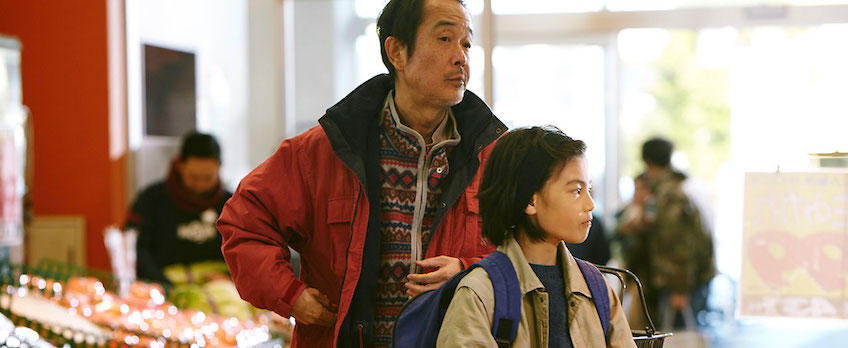 Shoplifters
Review by Eliza Janssen
Hirokazu Kore-eda makes petty crime downright wholesome in his 2018 Palme d'Or winner Shoplifters, a surprisingly light-hearted, lyrical movie about a makeshift family of six who eke out a modest but contented lifestyle funded partially by their shoplifting.
The Shibatas could ostensibly scrape by on the wages from Osamu and his wife Noboyu's (Sakura Andô) menial jobs – their theft appears more out of sport than sheer desperation. Shota (Jyo Kairi) justifies stealing toys and bags of chips by repeating back his adoptive dad's excuse: "When they're still in the store, they don't belong to anybody yet." This over-simple code of ethics is challenged when his parents 'borrow' a neglected five-year-old girl (Miyu Sasaki) from a neighbour's porch, and decide to keep her after noticing burn marks on her arms. Kore-eda unveils the hollowness of our assumptions about conventional parenthood and belonging by gradually teasing out the thieving family's true make-up – we're led to embrace people who can steal a child as easily as a packet of ramen.
The prolific Japanese director uses a typically delicate touch, one example being his sensitive depiction of Tokyo's changing seasons. We're first initiated into the film's cramped domestic world in winter, and the transition to a languid, steaming summer is evoked through acute sensory detail – spotlighted beads of sweat, 'Grandma' (Kirin Kiki) sprinkling sand onto her legs at the beach to cover her liver spots. These nuances illuminate the merciless passage of time – we understand the family's idyll can't last forever.
Kore-eda switches deftly between perspectives, lending breadth to an otherwise intimate, small-scale film; secretive 'older sister' Aki (Mayu Matsuoka) works behind a one-way mirror at a peepshow, and the pink-lit artifice of her scenes provide a tangy contrast to the rest of the film's heartfelt, naturalistic environ.
As in his 2004 film Nobody Knows (MIFF 2007), Kore-eda focuses on marginalised people living by their own principles, happily parallel to a society that defines relationships strictly by blood; what he delivers is a carefully drawn portrait, not inspiration porn. A scene in which Osamu lies on his back, gently batting a plastic bag into the air like a housecat with its toy, encapsulates the entire movie's fragile atmosphere. In the Shibata's sleepy corner of the world, playfulness is valued, and childlike stasis isn't reserved for the young. Until the outside world finally intrudes on the film in its bitter, if inevitable resolution, it's a joy to inhabit the family's cloistered space.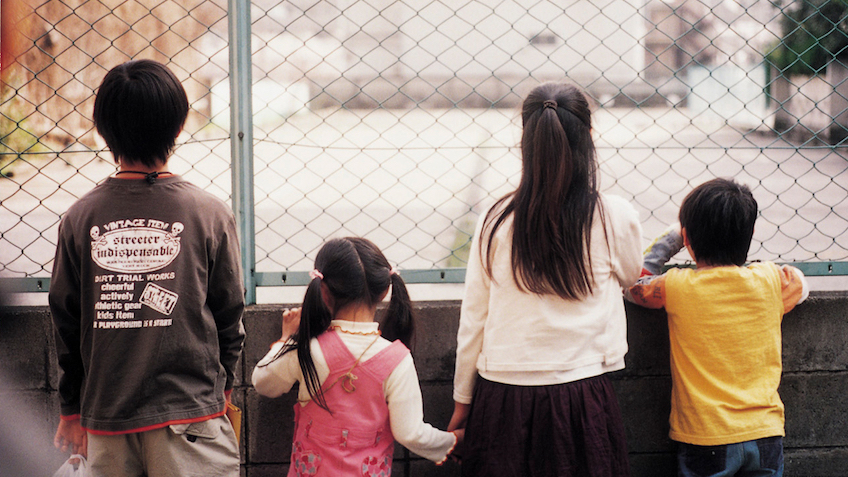 Nobody Knows
Review by Claire White
The Shibatas live in a tiny and cluttered house in a corner of Tokyo. They do not look alike, and how each person got there is dubious. In Hirokazu Kore-eda's Palme d'Or winning film Shoplifters, he explores the question, "What makes a family?" Could it be this group of people who steal and con?
The film opens with father figure Osamu (Lily Franky) providing perfectly choreographed diversions while the young Shota (Jyo Kairi) shoplifts from a grocery store. On their way home on a cold night from a successful trip, they come across a five-year-old girl, Yuri (Miyu Sasaki) sitting alone outside her apartment. Concerned about her in the cold, Osamu decides to bring her home.
Over a feast of croquettes and stolen noodles, Yuri meets the rest of the family. Grandma (Kirin Kiki), the college-age Aki (Mayu Matsuoka), and Nobuyo (Sakura Andô), the maternal figure. Noticing the scars on Yuri's arms, Nobuyo wants her fed and then returned home. Outside Yuri's apartment to drop her off, Nobuyo overhears Yuri's mother shouting that she never wanted her in the first place and decides they should keep her.
Technically, this is kidnapping. However, this is barely considered by Osamu and Nobuyo. Since they are not holding her for ransom, and they are saving her from a home of abuse, this is not kidnapping. The rationalisation of crime is second nature for this family. Osamu teaches the young Shota, "whatever is in a store doesn't belong to anyone yet".
The beauty of the film is in the details. Kore-eda uses small, quiet moments and gestures to build his characters. When Osamu walks around a construction site pretending one of the new apartments being built is his own, the camera observes from a distance, but the audience becomes closer to the character.
If Shoplifters had ended halfway through during an outing to the beach – with an idyllic image of them standing in the ocean, laughing and holding hands – Kore-eda would have left us with a lyrical film. However, this perfect moment, this curated family, cannot be sustained. With a series of revelations, their world falls apart. This is particularly true for Nobuyo, who has the darkest secret, but is also the most compassionate. In this family of liars and thieves she has the most to give, and – as we come to see in her moving final scene – the most to sacrifice.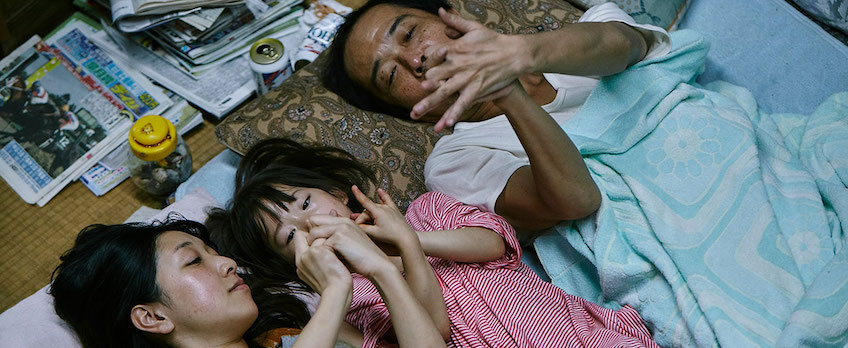 Shoplifters
Review by James Waters
At around the halfway mark in Hirokazu Kore-eda's Shoplifters, the character of Nobuya (Sakura Ando), a matriarchal figure in a makeshift family of working class folk, wears a t-shirt emblazoned with the English words "Freedom is never voluntary". While preparing dinner and snapping boiled corn into halves, Nobuya's shirt points towards an underlying preoccupation for this family. Filched t-shirts become a form of pride for a group initially shown as struggling, hobbling through a cold winter night and into a cramped apartment. With Nobuya specifically, there's a discord between the words and her t-shirt itself, a form of sloganeering that suggests a family that wears its ardent rhetoric with ease, disguising the tensions inherent in the notion of self-imposed poverty.
Kore-eda begins by showing the family's ostensible father and son duo Osamu (Lily Franky) and Shota (Jyo Kairi) pulling off a shoplifting scheme for their daily groceries. They stumble upon a battered five-year-old girl, Juri (Miyu Sasaki), outside her apartment, and offer her food and shelter for the night. When the family's parental figures, Nobuyo and Osamu, decide not to return Juri to her abusive parents, the film shifts into a slice-of-life portrait.
Throughout the film, instances of conflict and drama are avoided by both the characters and the filmmakers. Even when Osamu fractures his leg working at a construction site, tensions are avoided as he adjusts to unemployment with ease. Concerns about Juri's whereabouts don't surface until the final twenty minutes, sparked by the deliberate, concerned action of an increasingly disillusioned Shota, who begins to question the supposedly selfless ideals of his family.
These characters lead an isolated existence: Kore-eda refuses to set them within a larger socioeconomic context, instead falling into his characteristically quotidian nuance. When both Shota and Juri are recovered by authorities, their supposed parents are interrogated, but Kore-eda's uninflected style – lack of music, terse shot/reverse shot close-ups - provides no broader perspective on these matters. Nobuya's shirt, an ancillary piece of costuming, ends up encapsulating the film's major themes in a proclamatory, cosmetic statement. Though the romanticism of the slogan, "Freedom is never voluntary", is countered by an implicit irony, the film seeks no further depth, effectively conflating Nobuya's freedom with her poverty. Kore-eda has it both ways –proximity with his characters' interests and measured distance – nullifying any potential insight and belying his overly familiar attempts at ambiguity.
Hirokazu Kore-eda's Shoplifters played the 2018 Melbourne International Film Festival on 4 and 7 August.