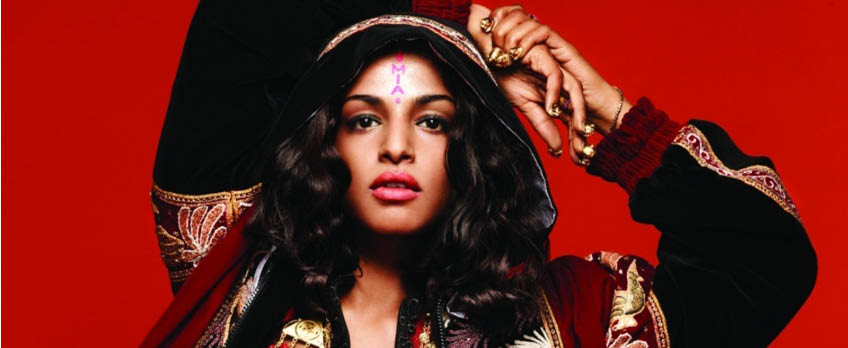 Artist, Activist and Antagonist: The Misrepresentation of Mathangi Arulpragasam
By Vyshnavee Wijekumar
I remember hearing M.I.A.'s music for the first time. It was New Year's Eve in 2007 and a fellow Sri Lankan Tamil was hosting a piss up at his Western Sydney residence. Boyz, the lead single off M.I.A.'s sophomore album Kala, named after her mother, popped up on his iPod playlist (this was 2007, people). I was mesmerised by the pulsating beats of the all-too familiar Tamil music stylings (known as 'gaana') that surrounded my childhood, interspersed with soca/dancehall vibes. M.I.A.'s melodies often sampled popular Tamil songs; her catchy Bamboo Banga features extracts from the S.P. Balasubrahmanyam and K.J. Yesudas track, Kaattukuyilu.
Staunchly anti-establishment, M.I.A.'s signature artistry is intrinsically introspective and uncensored – an extension of her cultural identity and the politics that shaped her upbringing. Where current pop culture producers play into the activism zeitgeist for profit and retweets, M.I.A was ahead of her contemporaries, using her art to enact real change.
Her new documentary MATANGI / MAYA / M.I.A., directed by close friend Steve Loveridge, is an intimate portrait of an enigmatic pop star. The film silences her naysayers, "serving receipts" (what would Diplo do?) to validate the controversial claims and actions that have both marked and marred her career. The film received a standing ovation and the Special Jury Award at its world premiere at Sundance earlier this year, and is set to screen at the 2018 Melbourne International Film Festival.
M.I.A.'s journey parallels my own migration story. In 1986, the year I was born, M.I.A. and her mother and brother fled Jaffna (my city of birth, where much of the Tamil population lived and the epicentre of the conflict) to London to escape Sri Lanka's brutal civil war. Two years later, my parents and I did the same, settling in Australia during the Hawke administration.
I spent my formative years explaining to people what and where Sri Lanka was – hard to believe given Kamahl's Dilmah campaign in the late '80s (do try it!). As someone who grew up feeling ashamed of my culture in my attempts to assimilate, M.I.A. tapped into the universal sentiments attached to most migration stories; the confliction and confusion arising from growing up away from your ancestral country.
M.I.A.'s lyrics heavily reference her largely absentee father Arular (also the title of her debut studio album) and his campaign for Tamil self-determination, and her early life as a refugee living in the U.K. Even her moniker "M.I.A.", a wordplay on her nickname Maya as well as being a wartime casualty classification, alludes to her traumatic past. Her music is steeped in vivid visual and lyrical metaphors signifying the intersection of her Sri Lankan Tamil heritage, British upbringing and early adolescent hip hop influences.
Though she has had a complex relationship with cultural appropriation in her music and accompanying videos, it's impossible to deny her influence in using her platform to bring the civil tensions of a small island nation – which otherwise received little mainstream media coverage – to a global forum. Her mere presence is an act of protest – a story of resilience and survival.
My father, a vocally proud Sri Lankan Tamil man, would often say "people will only respect you if you are proud of your culture." Following his passing in 2014, these words have become ingrained in my sense of self and being. As a young brown woman growing up in Australia, it was empowering to see a high profile female recording artist, renowned for her brazen honesty and undeniable authenticity, placing her cultural identity firmly at the forefront of her art. She shed a light on the broader refugee cause and the intersectional experiences of women of colour (before intersectionality was a recognised thing), collectivising the disenfranchised Sri Lankan diaspora across the world through her "artivism".
Though her politics have incited criticism and government interrogation, M.I.A. garnered the respect of her industry peers and fans alike, collaborating with the likes of Jay-Z and getting name checked as the "bad bitch that came from Sri Lanka" in Nicki Minaj's verse on Kanye West's Monster.
M.I.A. focused her career on chasing respect rather than popularity, and in doing so ironically became one of the most commercially successful, prolific recording artists of her time. As a Sri Lankan Tamil woman, it's rare to see my story reflected in cinema. I cannot wait to see her personal narrative unfold on the big screen at the Melbourne International Film Festival.
Here's to Mathangi, an artist and revolutionary ahead of her time.
Vyshnavee Wijekumar is an Australian marketing professional of Sri Lankan Tamil heritage with over 8 years of experience across the film and arts sector. You can follow her on twitter at @vylentfemme.