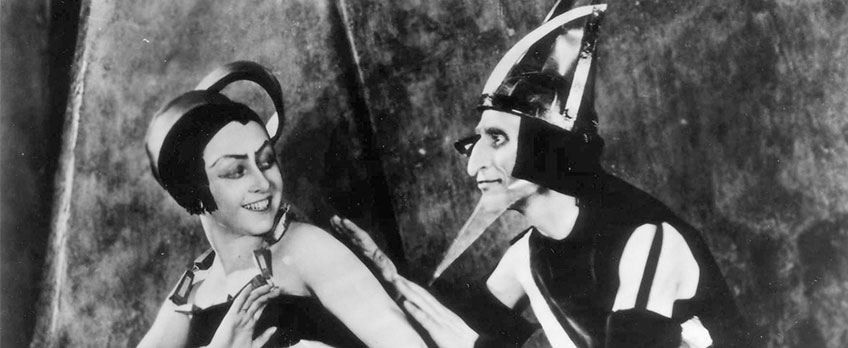 Aelita, Sci Fi and Altered Realities
By Eliza Freeman
The visually stunning Aelita, Queen of Mars was the first science fiction film from behind the iron curtain. Fritz Lang's better-known 1927 film Metropolis drew heavily from this 1924 USSR silent film. Based on a novella by Aleksey Tolstoy (distantly related to Leo) and directed by Jakov Protazanov, one of pre-revolutionary Russia's leading filmmakers, it tells the story of Los, an engineer who dreams of rocketing to Mars, leading to an interplanetary romance.
Moving-image media is often inspired by or directly references its forebears. Aelita, Queen of Mars was one such groundbreaking forebear, and continues to prolifically inspire, even in 2017 – a hundred years since the Russian Revolution! Check out just some of the later films that drew on Aelita in one way or another.
Metropolis (1927)
Metropolis received mixed reviews upon its release in 1927, but has since become one of the most lauded films in science fiction. With state-of-the art (for the time) special effects, and art direction drawn from Cubism, Bauhaus and Futurism, Metropolis explores anxieties around industrialisation and mass production.
Dune and Children of Dune (2000/2003)
The Dune and Children of Dune television miniseries', based on the Frank Herbert novels, drew visual inspiration from Aelita and other early science-fiction films. Different interplanetary families feud over the illicit substance of Spice, whilst wearing extravagant costumes, including several of Susan Sarandon's spikey head pieces.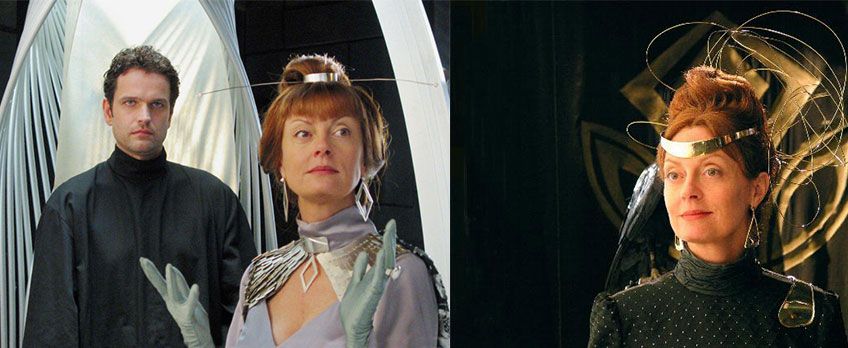 Queen of the Damned (2002)
Rated as "rotten" on rottentomatoes.com, Michael Rymer's Queen of the Damned is probably not worth the 101 minutes, but seeing the late pop star Aaliyah in the gorgeous Aelita-inspired headdress is delightful. Despite the negative reviews, the film has a small but loyal following of Aaliyah fans, and was the inspiration for FKA Twigs' music video for her song Two Weeks. Isn't Aelita just the gift that keeps giving?
Blade Runner (1982)
This Ridley Scott classic (based on Philip K Dick's novel Do Androids Dream of Electric Sheep?) drew heavily on the world created in Fritz Lang's Metropolis (and by extension, Aelita), and is an excellent exploration of distorted realities.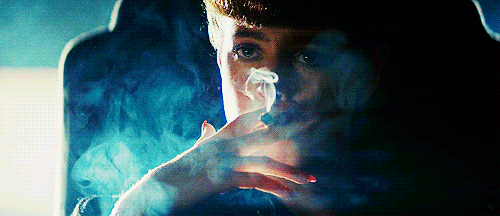 Planet of the Apes (1968)
Slightly racist undertones aside, Planet of the Apes employed a revolutionary use of plot devices, with a huge twist at the end. Whilst not sharing any particular visual similarity with Aelita, Planet of the Apes borrows story-telling devices from the silent film.
The Matrix (1999)
(Firstly, can you believe The Matrix was made nearly two decades ago?!)
The Matrix borrowed themes and aesthetics from nearly every sci-fi that preceded it, and the result is a glorious suspended reality, where humans have been captured and imprisoned in their own minds.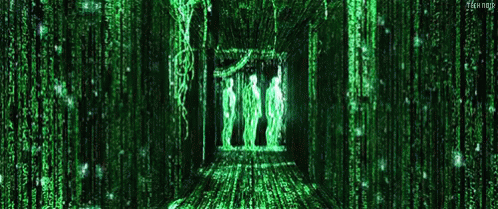 Aelita, Queen of Mars has become legendary. Don't miss this rare chance to see it on the silver screen, with live accompaniment by The Spheres, in collaboration with Kinotopia. The Spheres are an experimental AV ensemble who explore the conflux of post rock, sound art and silent cinematics. Kinotopia is a silent cinema series dedicated to exploring new relationships between sound and the moving image.
Aelita, Queen of Mars is screening at 1.30pm Saturday 19 August 2017, as part of MIFF 2017's Sci-Fi Retrospective.
BOOK AELITA, QUEEN OF MARS TICKETS