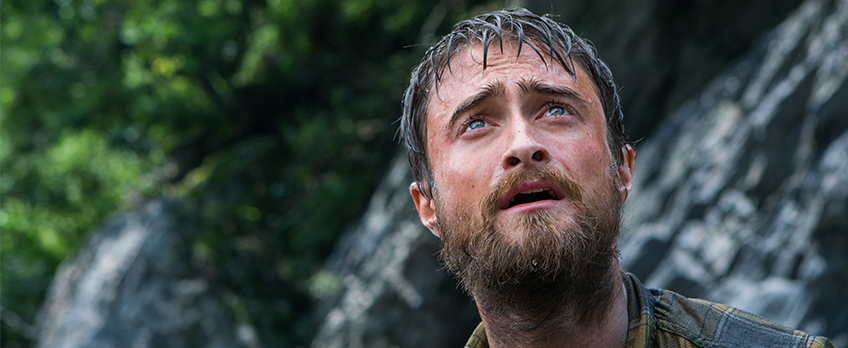 Q&A with Jungle director Greg McLean
Greg McLean, director of the MIFF Premiere Fund-supported Jungle, this year's Opening Night Gala presented by Grey Goose Vodka, opens-up about his journey from presenting his debut feature Wolf Creek at MIFF 2005 to working with Daniel Radcliffe on a survival thriller based on a true story.
Your first feature film Wolf Creek (2005) played at MIFF and now here you are 12 years later with Jungle world premiering at MIFF! How has this journey been?
It's interesting because I started my career with Wolf Creek at MIFF and now 12 years I have a new movie at the festival as well as working on the second season of a Wolf Creek TV spin-off. It's been a rich and fascinating journey, lots of ups and downs, with a new creative chapter unfolding as we speak.

Daniel Radcliffe's performance as Yossi Ghinsberg is rich and compelling. How was it working with Radcliffe whose post-Potter acting choices have been so varied? And what were the special challenges of directing an actor playing a role of real-life living person?
Daniel does give a fantastic performance and really gave it everything he had. He was a real joy to work with and to get to know and I admire him a lot actually as he's got such a great work ethic and focus and, while he is undoubtedly extremely famous, his focus on just doing the best work possible is inspiring.
Working on creating a film based on real people takes special care, as you have a responsibility as storytellers to be accurate and tell the story honestly, or at the very least communicate the essence of the story. I know it helped me a lot having access to Yossi before shooting to really get to understand everything that he went through and what really happened to inform the final movie. Without that obsessive attention to detail and extra research it would have been a much different movie.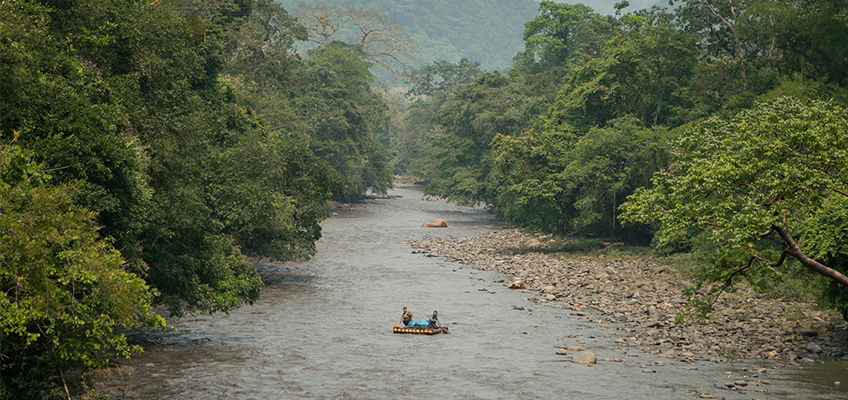 Jungle was shot in challenging physical conditions, including deep jungle, floods and rapids. How was it working in those seemingly wild conditions?
It was awesome, because I love being in nature having grown-up camping, fishing and hanging out in the bush. I feel at home and energised in the outdoors. We got to go some gorgeous places and making a movie like this is really a once-in-a-life-time experience. However, some parts were genuinely frightening as I was concerned for the safety of cast and crew while shooting the river sequences. The raging river you see in the movie really is raging – and we all knew if someone slipped in their chances of survival would be zero to none. That was extremely nerve-racking and I'm grateful we all came out of that alive!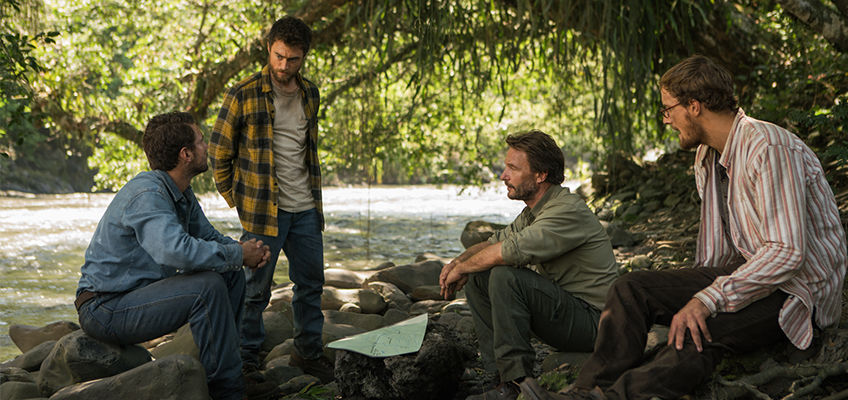 Your film brings Yossi Ghinsberg's unique survival story to the big screen after the success of Ghinsberg's book Jungle: A Harrowing True Story of Survival, which details the adventure at length. What approach did you take to this adaptation and what challenges did you face when translating the story for cinema?
For me the biggest challenge was getting the story right, as in really understanding the multiple motivations of the characters as deeply as possible. The next biggest hurdle is what to leave out; because a movie is such a short time frame (90–120 mins) you have make some tough choices about where to start, what to show, what you feel the audience needs to know to understand the story – really weighing up everything to see what we leave in and what we don't have time to show.
My approach was to try focus on the keeping as emotionally truthful to Yossi's journey as possible so the audience could feel some of what I felt when I first read the story.
Jungle is a journey of self-discovery, determination and adventure. What did you learn from your experience working on the film and what words of wisdom can you offer to aspiring filmmakers?
I think stories find you at different points in your life, rather than the other way round. Jungle came to me at a time when I wanted to find myself again, to re-examine what I was about creatively – so in a sense get lost again in order to rediscover something. And I was certainly drawn to a story about determination and adventure and really wanted to go on the adventure of making the film as I felt it would (selfishly) afford me a chance to do something completely different cinematically and push myself to focus on a new kind of story.
Personally I was and am deeply moved and inspired by Yossi's story and was simply compelled to tell an inspiring, beautiful story. It seems to me that the world right now needs inspiration, faith and heroes now more than ever. In terms of words of wisdom to aspiring filmmakers: there's a lot to be taken from this story about determination and never giving up, which to me is a key ingredient to working successfully in the often unpredictable entertainment industry.
Jungle is the Opening Night Gala selection for the 66th Melbourne International Film Festival, held on 3 August 2017 at Regent Theatre and Plaza Ballroom, Melbourne. Tickets for the Gala Screening and Afterparty, presented by Grey Goose Vodka, are available now.