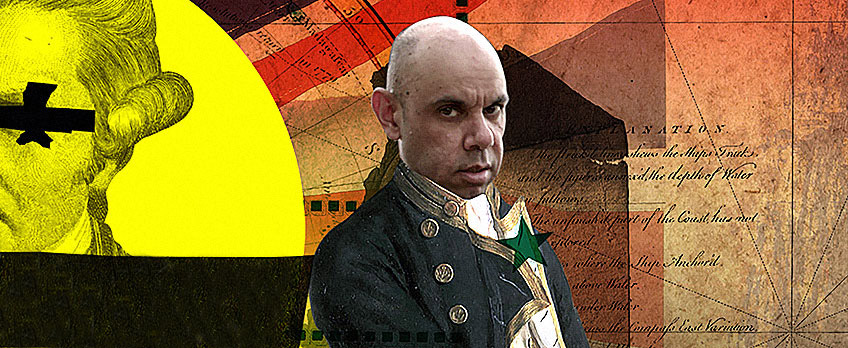 Meet MIFF Ambassador Steven Oliver
Steven Oliver was born in Cloncurry in North West Queensland and is currently based in Brisbane. He is a writer/performer in myriad fields ranging from poetry and acting to songwriting and cabaret. His written works for the stage include the plays Proppa Solid (published by Playlab Press) and From Darkness (Brisbane Festival), and his one-man cabaret show Bigger and Blacker (Adelaide Cabaret Festival), all of which received rave reviews from both critics and audiences.
His poetic works have been published in international poetry journals Ora Nui and Solid Air as well as national journals Australian Poetry Journal and Fire Front: First Nations Poetry and Power Today. His spoken-word piece 'What Matters' opened the 2020 Sydney Gay and Lesbian Mardi Gras and was televised globally. His written works for the small screen include the web series A Chance Affair as well as Australia's first Indigenous arts game show, Faboriginal, and the Logie-nominated sketch comedy show Black Comedy (Seasons 1 and 2).
Looky Looky Here Comes Cooky, for which he is both writer and presenter, is his latest work.

---


---

You're based in Brisbane. What most excites you about being able to attend MIFF from your home this year?
The fact that film is connecting me to not just a festival but a community that's thousands of kilometres away from me – all because of a shared love of film. A medium that, through countless viewings and revelations, has ignited excitement in me more times than I could ever dare to count, especially if I'm in it. Who wouldn't find such onscreen sexiness exciting? It's sexy-citing!

Looky Looky Here Comes Cooky subverts the colonial narrative around Captain Cook and Australia's 'founding'. What motivated you to be part of this project?
We live in a society where we're often expected to accept a narrative, and that one narrative is the ultimate truth. Ultimately, though, there is never one truth. If you take a part of several truths and add them together, usually the truth is in there somewhere. It's making people agree on it that's the hard part.
Looky Looky Here Comes Cooky offers an alternative truth from an Indigenous perspective, and asks us to open our eyes to possibilities or different realities of truth. It ignites further discussion that Australia still needs to have.
What role do humour and entertainment play in activism, change-making and healing?
Humour breeds a comfortable familiarity that is a great way to get to a deeper place. We often don't like having a hard discussion, but everybody loves a good laugh, whether with a friend or a stranger. Hopefully, we end up having enough laughs together and not at the expense of the Other – that, someday in the future, we'll see strangers become friends and we can truly heal together.

Representation is a perennial concern in screen culture, especially due to the link between visibility and validation – particularly for the Aboriginal and LGBTQIA+ communities. What steps do you think we need to take in this area?
To not only invest in more movies with queer and Indigenous people in them, but to make sure we have the right people at the helm telling these stories. And when I say 'investment', I don't just mean from a financial point of view, but an emotional one. I think part of the human condition is to connect, and film allows us in such a deep, personal way to do so. It's about caring enough for First Nations and queer stories so that we see and feel a broader scope of the human condition, rather than just the one we're used to in our own lived, personal experiences.

What do you hope audiences will take away from Looky Looky Here Comes Cooky?
That to grow, whether as an individual, a collective or a nation, it's okay to question – and that we should always question when we so strongly believe something is not the truth or the whole truth. And also that we have a right to question. Art should always make us question whether we love something or not. Why don't we like it? Why do we feel comfortable with it? Why does it make us feel safe? Why does it challenge us? Whatever reason something makes us feel a certain way, we should always use it as a chance to self-reflect and to take a deeper, more refined look at the self and why our feelings towards it are so.

Check out the full MIFF 68½ program here.