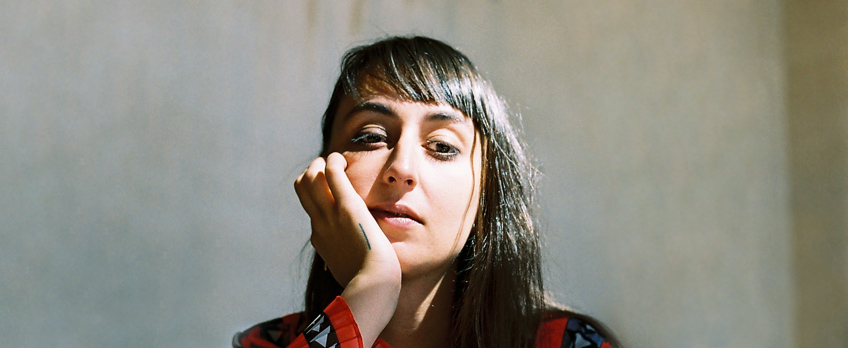 Meet MIFF Ambassador Stanislava Pinchuk
Stanislava Pinchuk is one of Australia's most exciting contemporary artists. Born and raised in Ukraine, and now based between Naarm (Melbourne) and Sarajevo (Bosnia & Herzegovina), she creates work that data-maps how war and conflict change landscape and topography. Originally a graffiti artist, she has a diverse art practice spanning drawing, film, publishing, installation, sculpture and tattooing.
Recent work includes The Red Carpet, a giant Ukrainian Bessarabian rug transposed onto the steps of the Sydney Opera House. Stanislava is the inaugural recipient of the Mordant Family Moving Image Commission for ACMI, and later this year will have a major survey exhibition at Heide Museum of Modern Art. She has been listed as one of the Forbes 30 Under 30, presented a TED Talk and makes work for museums all over the world.

---

As I begin the deep, terrifying and exhilarating dive into the world of making films, I am also exceptionally thrilled to be an Ambassador for MIFF 68½. Like many of us in this chaotic and uncertain time, I have found a great consolation in the arts: in new challenges, confrontations and expansions – and in old favourites of the soul. I cannot wait to see what the program may hold, not just in content, but also in format. I cannot wait to see what futures this year's films may hint at, and where they will take our eyes to travel. Simply put: I cannot wait to be a part of it.

– Stanislava Pinchuk

---

What are you most looking forward to with MIFF this year?
I love watching films with an audience: hearing laughter, shock, seeing viewers walk out in the middle of a film or sit in stunned silence after it ends. But this year, making lemonade from lemons, I can't wait to be a completely inconsiderate viewer from home. I can't wait to eat popcorn loudly and obnoxiously, pause films to top up my wine, roll around with a pile of blankets in the cold, or in the bath – and commentate as I please.

You frequently travel around the world. How does this transience inform the way you engage with arts and culture?
I've never had a strong sense of home. I grew up from long lines of geographic displacement; my city is not my parents' city, their cities are not their parents' cities, and so on and so on. On top of that, already being a migrant again several times in my life so far has shaped me greatly. In every way, really. Though it's not easy, I've always felt very lucky to not have a strong sense of home, outside of my own physical body. And being on the road, alone, has mostly held a tremendous happiness for me. All this, I suppose, is to say that I hope all this has made me open in the way I approach new places, situations, art and ideas. That I've found some sense of home and connection anywhere I go, because there is nothing too concrete to compare it to.

Why do you think engaging with art is important?
Art gives us propositions, catalysts for thought and experience. It gives us provocations, proposes options, challenges, derails or clarifies the strands of our thoughts.

What is your hope for the future of the arts landscape?
Freedom, always.

Stanislava's MIFF 68½ Picks:
Check out the full MIFF 68½ program here.

Image by Beth Wilkinson