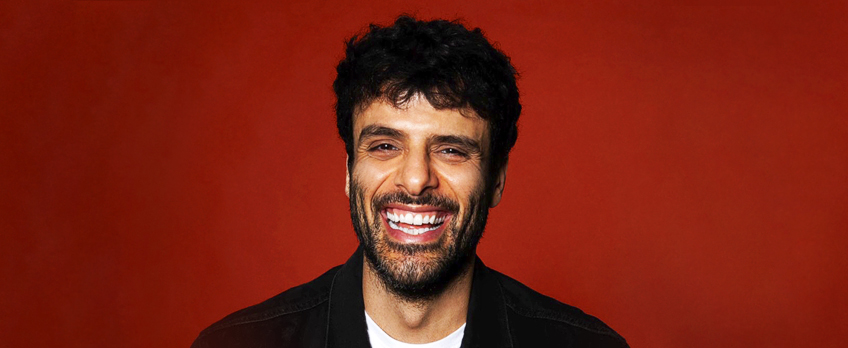 Meet MIFF Ambassador Fayssal Bazzi
Fayssal Bazzi is an accomplished Australian actor with extensive credits in TV, film and theatre. This year, Fayssal stars in the ABC's Stateless and Stan's The Commons; other television credits include Chosen, Mr Inbetween, Rake, Wake in Fright, The Letdown and Top of the Lake: China Girl, among others. His feature film credits include Measure for Measure, Down Under, 6 Days, Cedar Boys and the voice of Mr Todd in the Peter Rabbit animated feature film. In 2018, he was nominated for the AACTA Award for Best Supporting Actor for his role in The Merger.
Fayssal has also performed extensively with various national theatre companies, including the Sydney Theatre Company, Bell Shakespeare, Belvoir St Theatre, the Malthouse and the Griffin Theatre Company.

---

Over the last five years, MIFF has played an important part in my creative journey. My introduction to the festival was in 2016, with the film Down Under, selected as the Centrepiece Gala film. In 2018, I'd be back there for the world premiere of The Merger, which was also chosen to be that year's Centrepiece film. And, in 2019, I would return for the world premiere of Measure for Measure, which was part of the MIFF Premiere Fund. Now, in 2020, I am honoured to be asked back (virtually) to be an Ambassador – maintaining my attendance and involvement streak, so long as no one pays attention to my glaring omission from the 2017 festival!

– Fayssal Bazzi

---

What most excites you about being able to attend MIFF from home?
I'm excited that the festival has found a way to keep going! And the fact that I can watch it in my pyjamas from my Sydney home decreases travel time SIGNIFICANTLY.

You've developed a longstanding relationship with MIFF by now. What are you going to miss about the in-cinema festival experience this year?
The buzz before a movie screens for the first time. The exhale of breath and applause at the credits. And the conversations and differing interpretations at the festival bar afterwards.

Which of your contributions to screen culture are you most proud of?
To date, I'd have to say: for film, it would be The Merger, and for TV, it would be Stateless. Both projects engaged in the topic of refugees in a different way and showed we can deal with challenging topics through a variety of genres. They also allowed audiences to access a side of the narrative they may not have otherwise been privy to.

Do you find that more and better complex roles are becoming available to you?
Ask me at next year's festival. Hopefully in person.

How have the screen industries evolved over the course of your career? And what changes do you hope to see in the future?
When I started out all those years ago, it seemed unimaginable that someone who looked like me would be a lead in film or TV. What I'd like to see in the future is people of any colour leading projects, regardless of the content. That race can be just one facet of a complex character, which can exist in any kind of story.

Fayssal's MIFF 68½ Picks:

Check out the full MIFF 68½ program here.