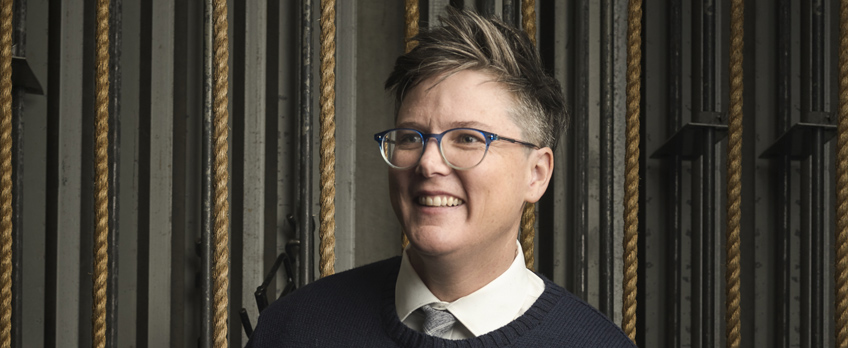 Meet MIFF Ambassador Hannah Gadsby
Tasmania's own Hannah Gadsby stopped stand-up comedy in its tracks with her multi-award-winning show Nanette, which played to sold-out houses in Australia, the UK and New York. Its launch on Netflix, and subsequent Emmy win, took Nanette (and Hannah) to the world.
Hannah's difficult second album (which was also her eleventh solo show) was named Douglas, after her dog. Hannah walked Douglas around the world, selling out the Royal Festival Hall in London, the Opera House in Sydney and the Kennedy Center in DC, alongside a sit-down run in New York and shows across the US, Europe, Australia and New Zealand.
Douglas was a smash hit, moving beyond the trauma at the centre of Nanette and, instead, letting the world see the view from Hannah's brain – one that sees the world differently but with breathtaking clarity. The show covered Hannah's autism diagnosis, cleared up some confusion regarding a penguin, lectured some great masters, and saw the patriarchy needled with various levels of vigour. Douglas is available throughout the world on Netflix.
Hannah has done plenty of other things over the course of more than a decade in comedy, but that will do for now.

---

As a former projectionist, current film-buff and intermittent sprocket, I believe in supporting all things MIFF. They really know their onions. The festival is a wonderful opportunity to see great films from Australia and across the world that we wouldn't normally get to see, and it casts a warm glow across Melbourne each winter. I'm pretty (very) excited to see what they have in store for this year's online edition.

– Hannah Gadsby

---

Check out the full MIFF 68½ program here.

Image by Jill Greenberg