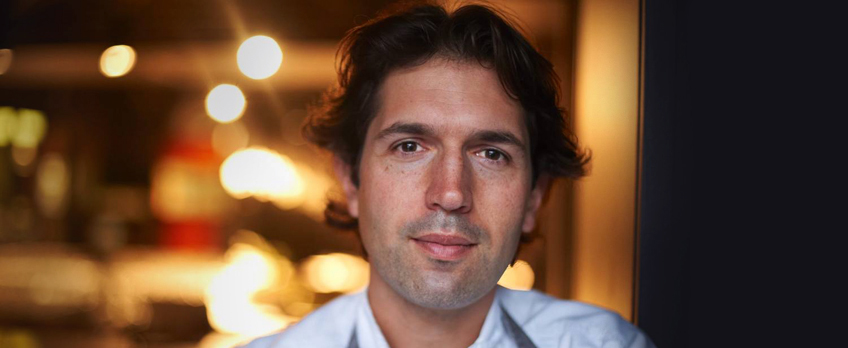 Meet MIFF Ambassador Ben Shewry
Ben Shewry is the owner and head chef of Melbourne restaurant Attica. He was one of six chefs featured in the inaugural season of Chef's Table on Netflix, and is passionate about the use of fresh ingredients native to Australia.
---

I'm delighted to be an Ambassador, and now more than any other time in MIFF's history is the time to get behind this bastion of culture and creativity. It gives us the chance to glimpse into worlds that we cannot currently reach, and is a warm and fascinating distraction from the everyday situation. We all need spaces that we can escape to and dream, and MIFF is that, to me: a shot of joy during a tough time.

– Ben Shewry

---

What most excites you about being able to attend MIFF from home?
Just being able to continue some sense of normality! Our community has lost so much, and that's why it's so important that we are able to still attend MIFF this year – albeit virtually. Life hasn't stopped, living each day is precious, and it's awesome to see an important cultural organisation like MIFF continue to positively innovate and bring joy to people's lives during lockdown.

How important is it that cinema cross-pollinate with other art and cultural forms, and vice versa?
The future for all creative industries is cross-pollination with other industries. It's crucial that cinema works and collaborates in new forms with people who are not from the screen industries. People who are pushing the boundaries of creativity in any industry know this: to stop creating, to stop moving, to stop being informed by people and art from outside your sphere means stagnation. And, to me, stagnation means the end of my own creativity. Ultimately, the creative urge needs to be fulfilled and, in any industry, the world is too small for that urge to be filled by one view.

You've talked elsewhere about how Attica had to be agile in its response to the pandemic. Do you have recommendations for how other industries can stay competitive during this time (and beyond)?
My motto, if you like, has been to stay positive every day and in every moment – no matter what. I believe in leading with positivity; I'm completely uncompromising with that, to the point of being obnoxious. In the interest of clarity: if I had taken any other view, it would already be over for my company. It's that simple. So every day, I get up and am immensely grateful that I still get to cook for a living. One foot after the other, one day at a time – it sounds clichéd, but the fact has been that, since March, that's what we've been doing. We should have gone broke. We didn't, and positive thinking and positive action are the main reasons why.

In your restaurant, you proudly use locally sourced and grown ingredients, and have encouraged your industry to 'pay it forward' to Indigenous Australians. How can non-Indigenous creatives build respectful and sustainable collaborations?
It's really simple: learn Australian history beyond the incorrect and narrow colonial view of history that most Australians are taught in schools. Learn about the uncomfortable truths – the genocide, the stealing of children, the stealing of land, the intergenerational trauma that comes from this history and this present. Learn this, and listen to Aboriginal and Torres Strait Islander peoples.
All this and more have happened and continue to happen to our First Nations peoples, while we non-Indigenous people largely stand silent on these matters. We should be outraged by the injustices that First Nations people endure daily in Australia. Without any knowledge of the above, it's not possible for non-Indigenous people to move forward. Learning about this history allows a person to feel empathy. That is were I started. I'm no expert, but beginning to educate myself (it's my responsibility to know about this, not Indigenous Australian people's responsibility to teach me) has allowed me to move forward in respectful relationships that benefit both myself and Indigenous Australian friends and collaborators – diffusion, not appropriation. I've done a shitload of listening and will continue to do so. I understand that, often, it's not my place to speak unless asked, especially around Elders. I'm just grateful for the education, and I try to pay that forward.
In the most basic terms, it's about being a really good friend. Being constant, getting educated, calling out the bad stuff you might hear, supporting Aboriginal and Torres Strait Islander peoples in all the ways that I, as an individual, want to be supported – and not just today or tomorrow, but for as long as I'm around.

Ben's MIFF 68½ Picks:
Check out the full MIFF 68½ program here.