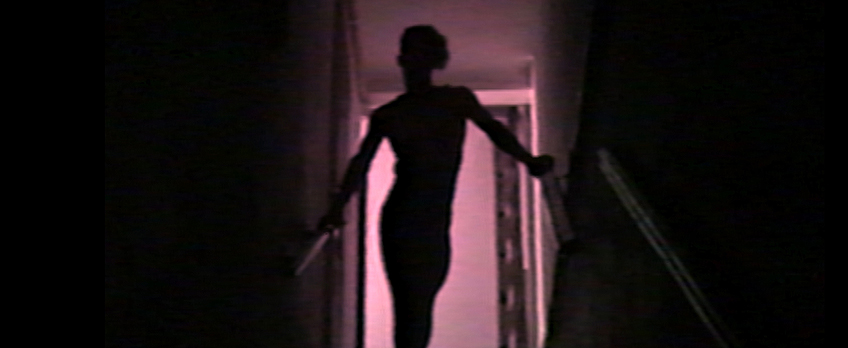 Hauntings of Memory: The Past Relived in Playback
Critics Campus 2020 participant Angus McGrath delves into recollection, representation and materiality as seen in Agustina Comedi's Playback.
Playback starts with the electric buzzing sound of an old VHS tape and a blank screen. The frame cracks apart with bustling lines of static. Title cards appear, written with that in-built video camera font, while the white noise remains. When the action finally starts, we're backstage among bustling bodies getting ready in a dressing room. A voice tells us where and when this is: Córdoba, a "sanctimonious" small town north-west of Buenos Aires in the late 1980s. Our narrator is La Delpi, speaking from the present and introducing us to the girls backstage. A light shines so brightly on screen that, when not eclipsed by someone's large red hat, it blows out and flares to the edges.
Completed in 2019 by Argentinian filmmaker Agustina Comedi, Playback uses footage that was shot while she was just an infant. Comedi's discovery of this material led to her first feature, a 2017 documentary titled Silence is a Falling Body. Using similar aesthetics of amateur video, Silence tracked Comedi's discovery that her now-dead father had a secret life in Argentina's gay community. It's worth noting that the images of Silence and Playback are both from home videos, rather than archival material sourced from a library. They don't constitute public history, but personal memory. Comedi may not be able to talk to her dad, but he shot the footage and, with that, she's given a unique opportunity to see through his eyes.
Although Playback is also a documentary with the same aged video, it's noticeably different from Silence through its eventual embrace of fantasy. Returning to the trove of footage, Comedi felt the people on screen should have a chance to tell their own story, which is how Playback came to be. There's an early indication of a break from fact when La Delpi introduces us – "…that's La Gallega" – and, after a pause, we see a different person on screen and are told, "But let's pretend that's La Gallega." In the cut between the two La Gallegas – the real and the imagined – is a silhouette walking up a staircase and standing in a doorway. It looks pink, but that's probably just the decay of the video warping the colour. At first striking yet innocuous, this footage, I'm now certain, is of a spirit leaving this world and moving to some kind of heaven. She looks back at us, her friends on this earth, lovingly.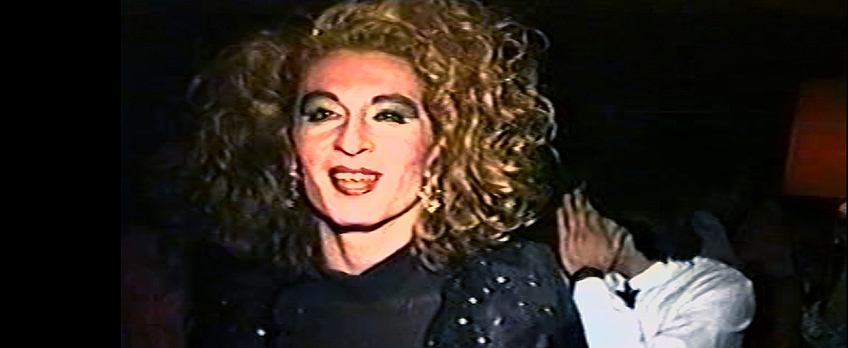 Playback

La Delpi and her best friend La Colo met La Gallega at age 16, becoming close immediately. Three years later, the girls finished high school and began running the nights we see on screen – events that appear to ambiguously encompass experimental dances, lip-syncs and beauty pageants. The focus isn't on what the performances were, but the fact that they happened, allowing glamour and fostering closeness. Although Argentina's dictatorship had just ended in 1983, it remained a largely Catholic country, and La Delpi's community of queers were still exiled. The nights we see in Playback were spaces to enact a small slice of escape. "We crossed the door to La Piaff and the fantasy halted what was wrong outside."
With the hindsight of history, AIDS inevitably appears and the film takes on the unbelievable weight of loss. La Delpi doesn't have to say much to make us understand: "In '91, we started donating the money from tickets to the hospital." The tape silently freezes on faces. The physicality of the amateur videotape has a tangible trace of the memory, which sometimes wobbles like these paused video frames. Utopia can't last forever, but we can rewind, slow-down and stop recordings of it.
"We were beginning to die." We see La Gallega before the last time she ever went on stage, learning that she died when she was 25. La Depli recalls, "I was feeling so helpless and sad that La Colo thought we should make up happy endings for her." With these words, we see the imagined La Gallega – her shaved head and moustache are almost opposed to the real La Gallega with long hair and sweet make-up. This is an actor, Marcos García, performing as an avatar for La Delpi's retellings. In the archival footage, the lights on screen often blow out and, rather than lightbulbs, they appear like otherworldly glows. The videotape itself understands that La Delpi is conjuring up a ghost. García's La Gallega is a vessel for the spirit, placed in a world that recreates the look of the old video, indistinguishable from the "truth". It's important that when La Delpi changes her mind, she can rewind the tape.
When I first watched Playback, I remembered a cassette of music videos I bootlegged from rage as a child. Within months, due to my keen overuse, the tape tore itself apart. At its end, the songs had a warped quality. I most vividly recall 'Fergalicious', which had become more static than song. Canberra in the mid-2000s was worlds away from La Gallega's Córdoba, but I felt some naive resonance. The VHS became my own queer space, a private playback through which I could freely enjoy campy pop music without shame or judgement. Some of our most powerful memories are constructed from a recording on a screen. Deterioration just speaks to the time passed.
Heaven is contained within the footage of Playback. It's not the afterlife of organised religion, but instead strives towards some similar sense of utopia – the soft pink glow at the top of the stairs. Its holiness is too much to be rendered clearly, so it's like breaking through static into the waking world. La Gallega will always be there in the fuzzy hiss of memory. She appears among those supernatural lights, and looks her most beautiful. It's the way that La Delpi remembers her.
Playback screened as part of the MIFF 68½ program in 2020.