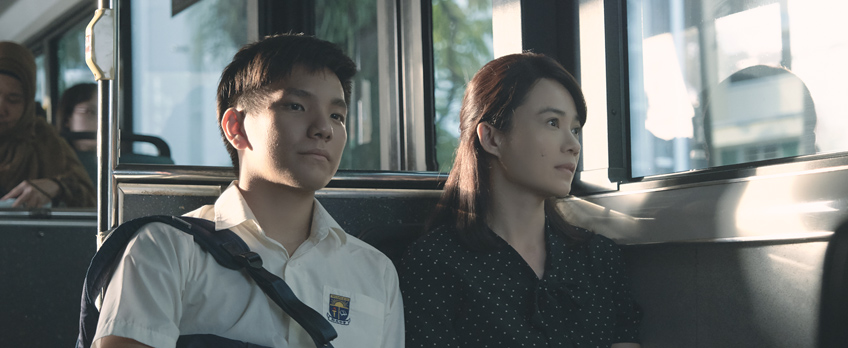 High and Dry: Anthony Chen's Wet Season
Critics Campus 2020 participant Michelle Wang takes a look at the portrayals of loneliness and yearned-for comfort in Anthony Chen's Wet Season.
"You don't have to see someone's face to know they're crying," filmmaker Anthony Chen observes. In his new feature Wet Season, he refrains from showing us the face of the central character, Ling (Yeo Yann Yann), during the opening scene. We meet her as she drives to work, framed to one side and from behind. It is at least two minutes before we catch a glimpse of Ling's face in the rear-view mirror, slightly grimacing from the hormone injection she has just given herself, before we follow her from behind again as she walks through the school corridors.
Chen has said he was influenced by the 19th century Danish painter Vilhelm Hammershøi, whose depictions of women show them from the back in a domestic setting of some kind. An elegant sense of loneliness infuses his paintings. Chen's film often presents Ling to us in this isolated way, whether she is standing by her classroom window, at home while her husband works late, or driving in the constant rain. Even as she processes her grief, such as after a failed fertility procedure, we only briefly catch her facial expression at an angle before she again stands with her back to us in a solitary shot.
As a Malaysian person teaching Chinese at a middle school in Singapore, Ling is an outsider. She falls into a relationship with one of her students, set against the backdrop of her loneliness as a foreigner in the island nation and in her crumbling marriage. Not once do we see her husband, Andrew (Christopher Lee), accompany her to the fertility clinic, but daily hormone injections are part of the rhythm of her life as a desperate, painfully stifled yet dutiful wife. Similarly, Ling dedicates much of her time to looking after the needs of her father-in-law – feeding him, changing his nappy. Not once does she complain aloud of the endless care expected of her. Her sense of self as a woman erodes her forbearance in the face of these obligations and pressures.
In the evenings, Ling often calls her mum in Malaysia and they speak in their local dialect. "You are lucky to live in Singapore," her mum tells her, as images of political protest in Malaysia play out on the television set in the background. The simple shift between languages speaks to the dualities of Ling's Malaysian identity in Singapore. Presumably, a large part of the reason she has come here is to be with her Singaporean husband, and because life is better there in the cosmopolitan and flourishing 'Asian Tiger'. The wealthy Singaporeans, however, are cold and conservative in their attitudes towards women, and the subject Ling teaches, Chinese, is considered secondary to more pragmatic counterparts like science or maths. Her remedial Chinese class is only attended by one student, Kok Wei Lun (Koh Jia Ler), a sweet but unsurprisingly horny teenage boy who becomes infatuated with his teacher.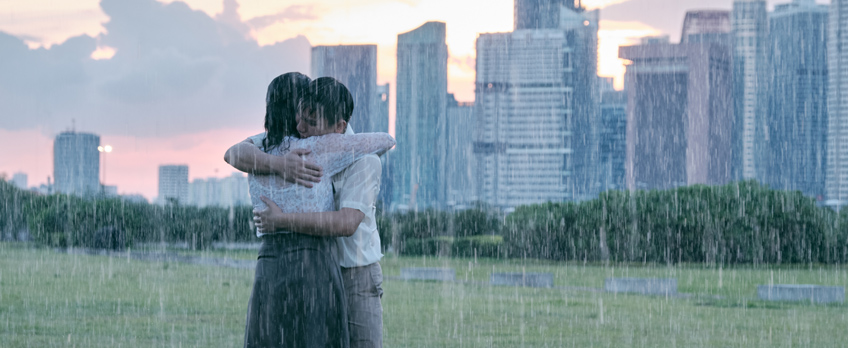 Wet Season

Ling and Wei Lun's relationship is primarily a confused friendship, offering both of them a bit of solace and a bit of excitement, which, at times, cross the threshold into something more. Some parallels can be drawn to Chen's 2013 debut, Ilo Ilo (also starring Yeo and Koh) about Filipino nursemaid Teresa (Angeli Bayani) and her young charge. Its Chinese title, 爸妈不在家, translates to, 'Mum and Dad are not home.' This common thread of lived experience weaves into Wet Season as both Ling and Wei Lun have fragmented home lives. The boy's parents are usually away on business, and Ling's husband is rarely home. She has been struggling to conceive for many years and so, in some ways, they stand in as parent and child for each other. At the same time, Wei Lun – in his own coming-of-age narrative – has objectified Ling with a lustfully boyish gaze. Their relationship is a product of their loneliness, which, to an extent, is shown as a product of the society they live in. For the rich middle-class, the traditional family structure is disintegrating amid the pursuit of material wealth, which takes parents away from the day-to-day upbringing of their children and upholds rigid child-bearing expectations of wives. Chen's sensitive storytelling reveals the traces of his characters' experiences and trauma in carefully cut scenes: obscured viewpoints, neatly edited panning shots and brief outbursts of violence are subsumed into the texture of the film.
Simple reminders of home become a source of comfort and belonging for Ling. There are traces of this affinity in two scenes involving durian, which is mainly grown in Malaysia. First, when her brother, a durian vendor, delivers two to Ling while she is at work, which leads to her and Wei Lun gobbling chunks of the fruit heartily on the school desks; and second, when Ling, Wei Lun and Ling's father-in-law eat durian together at the markets. Momentarily, we glimpse an informal family, sharing a simple sensory pleasure. They are warm and satiating scenes to watch. There is minimal passing conversation in between the slurpy suck of the fruit flesh and noisy rustle of the plastic bag containing it, highlighting the pure, earthly joy of eating durian together.
Chen is passionate about spotlighting diverse Singaporean stories and, in the intervening six years since Ilo Ilo, he has been doing so as a producer: he co-founded Giraffe Pictures in 2014, which has released two Singaporean debut features, among others. Chen's Singapore is certainly not filled with crazy nor rich Asians. In fact, Chen has said that that movie – 2018's Crazy Rich Asians – is a huge misrepresentation of Singapore. In his own films, there is no razzle dazzle; rather, most of Wet Season is confined to fairly generic modern apartment interiors, Ling's plain classroom with barred windows, and relentless grey rainy skies.
The perennial monsoon rains are an essential component of the film's emotional and literal landscape. Even it acts as a melodramatic tool to emphasise the characters' suffocating social limitations and inner sorrows, the rain is very real to their world. There are two monsoon seasons in Singapore, and it rains for 167 days of the year on average. At the end of the film, Ling goes home to Malaysia. She walks into her mother's house, and the camera fastens for a moment on a softly lit room, furnished with kitschy blue armchairs and slightly mismatched floral pink wall drapings, framed by beaded curtains. We can see a grassy garden through the screen door. Going by the sleek aesthetic of urban Singapore, it is all wrong; and yet it is no longer raining.
Wet Season screened as part of the MIFF 68½ program in 2020.