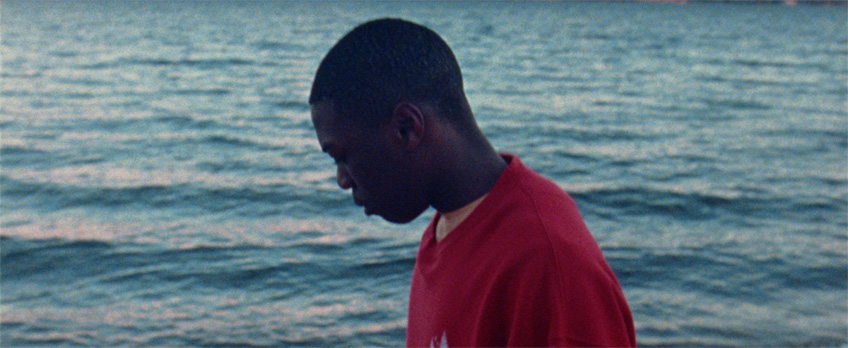 Connection Failed: The Echo, Call History, Don't Forget to Go Home
Critics Campus 2020 participant Bruce Koussaba discusses how the themes of disconnection, distance and identity unfold in the short films The Echo, Call History and Don't Forget to Go Home.
The Echo is a poem turned visual. Based on 'The Rider' by Naomi Shihab Nye, the film follows an unnamed boy who has been left behind in a world that feels abandoned. This is a concept that writer/director Michael Gupta identified with in Nye's poem. "There was an innocence and hope to the way she tackled loneliness," says Gupta. "I knew this feeling." The film is driven by the narration of the poem in voiceover, paired to visuals of the boy exploring his surroundings. A sense of atmosphere is quickly developed – the film is cloaked in a nostalgic filter that's evoked through the use of 16mm film, creating a dreamlike relationship between the audience, character and world.
To create this fantasy world, Gupta drew from his own experiences. "I was transported back to the house of my childhood: the sounds, textures, walls, floors, long grass and streetscapes that were my entire world," he says. There's a charm in this environment, and in watching the boy explore an abandoned house, collecting dust on his fingers.
Around the boy is an air of detachment. Never is he panicked by his loneliness but, rather, seems content with his own company. He is almost entirely the sole focus of the camera throughout the film, save for a few shots. Often we push in, follow and observe the boy, but never do we see his point of view. In the background, the sound of crashing waves and gusts of wind mirror the boy's inner mind. What separates the film from the poem is how it deals with its subject: while the poem is closer to the recounting of a memory, the film is happening in the present, putting the audience in the moment.
Gupta tells me of his interest in coming-of-age stories and his intrigue about "the outsider looking in". It is only when we see the environment outside the house that we realise how far the boy's isolation extends. He lives in a world where the sun is setting. He knows his time is running out. When night falls, he may disappear along with it.
Lillian Paterson's short film Call History is also a portrait of isolation. It is set entirely within the bedroom of Claudie (Zoe Terakes, Ellie & Abbie (& Ellie's Dead Aunt)), who is at odds with her emotions and desperately seeking closure over the end of a relationship. The story of Claudie's relationship with Zora is told through a series of unanswered voicemails. Paterson (Lives in Action, MIFF 2019) explores the way in which the telephone can connect you to your past, and the director tells me of a newspaper article she drew inspiration from. "There's this telephone booth atop a hill in Fukushima, Japan. The phone is disconnected but people still go there to speak to loved ones who have died or gone missing, and put their messages out on the wind."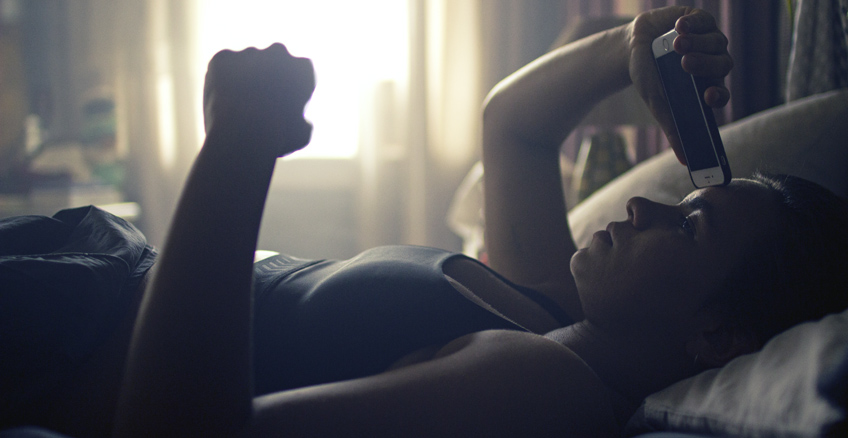 Above: Call History | Header: The Echo

Instantly, we are sucked into the gravity of the narrative. A frazzled Claudie bounces between a demanding rage and a bitter plea, anything to tease a response from Zora. Claudie relives a tender memory the two shared, but this only results in the beep of a voicemail. Claudie withdraws her efforts and sinks onto her bed. She struggles with filling the void Zora occupied. Claudie is coming to terms with an immediate part of her life that's now gone. I doubt she actually believes Zora will ever pick up the phone, but to stop calling is to lose her.
"Particularly for young queer relationships, where you're still figuring out who you are and navigating your sexuality," Paterson says, "you're still discovering [yourself] in those early relationships, which can complicate the process of moving on."
Visually lucid and surreal, young queer relationships are also explored in Don't Forget to Go Home. The film follows Fijian-Indian sisters Aasha (Carpark Clubbing's Monica Kumar) and Sapna (Remanika Chaudhry in her screen debut) as they run away from a family wedding and dive into a night of drugs and clubbing with their friends Johnno (Joshua McElroy) and Nat (Nadia Zwecker). Writer/director Victoria Singh-Thompson has created characters that feel familiar to the Sydney scene – yet distinct from one another – by curating playlists and Tumblr accounts, and using other character-building ideas fit for the 21st century. "I found ways to add small layers to the characters," she says, "like deciding what they'd have in their bag and setting their phone backgrounds to what the character would have." She even put together the costumes herself.
The energy of the film is authentic to Sydney's night culture. I felt that the character of Aasha spoke true to the experiences of second-generation people of colour growing up and adjusting themselves to Western life and family heritage. Aasha's journey is one of a teenager still experimenting with their personality. She is attempting to find space for herself in the Inner West culture of Sydney, which is a majority-white space.
Her struggle with identity is reflected in the differences in relationships she has with her sister and Nat. At first, she rejects Sapna, who only wants to follow Aasha as she escapes the family wedding, but then Aasha begrudgingly takes her along. Throughout the film, Aasha is out to prove herself to Nat as someone who can be spontaneous, risk-taking and the life of the party – a self-described "MDMA fiend". Aasha's actions are fuelled by her desire to get close to Nat. By the time all four have reached the club, they've already dropped pills, reflected in the loose and hazy camera movements. Aasha's judgement also becomes hazier as she attempts to engage with Nat sexually, only to be rejected. From here, the night turns bitter for Aasha as her expectations meet her reality.
"The film is about a melting-pot world of being caught in the limbo of queerness and heterosexuality, and running from your identity," says Thompson. Recounting the night, Aasha is left to contemplate where she belongs and reconsider who she is. As Thompson notes, "Being at home, you have to be at ease with your feelings and face up to reality."
These three filmmakers express intimate stories framed through notions of physical disconnect, emotional grief and crises of identity in short-form cinema.
The Echo, Call History and Don't Forget to Go Home screened as part of the MIFF 68½ program in 2020.