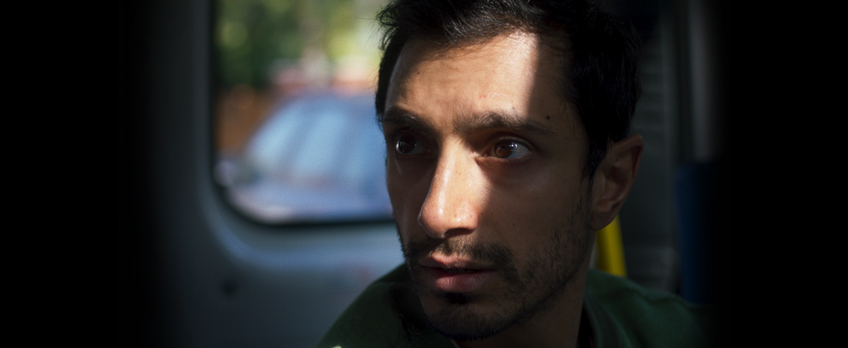 Mogul Mowgli, Four Ways
The live-editing workshop is an integral part of each year's Critics Campus, and in 2020, four members of the cohort were assigned Bassam Tariq's Mogul Mowgli. After penning their reviews, the participants sat through an intensive revision session with The Big Issue film editor and Fireflies founding editor Annabel Brady-Brown. Read their final reviews below.
———
At the beginning of Mogul Mowgli, New York–based rapper Zed (Riz Ahmed, Nightcrawler) is asked, "For someone who raps so much about where they're from, when was the last time you actually went home?" As he begrudgingly visits his Pakistani parents in their hometown of London, Zed must reconcile with himself and his identity. As his body collapses, so do his musical aspirations, and Mogul Mowgli sings most powerfully in this uncertainty.
Spontaneously struck by an unknown illness, Zed loses the ability to walk, barely even able to stand, though he insists on recovering in time for a career-making tour. Clashing with his parents, he feels trapped by both his body and traditions – in surreal dreams, his hospital robes turn into a shalwar kameez while he's taunted by a masked man from his dad's old Urdu cassettes. There is a series of these scenes wherein the room falls apart, but Zed and the audience remain stifled by the boxy aspect ratio. The generally chilled colours and smooth, static camera suddenly become too vivid, too shaky.
Although the subtle change of style puts the audience in the same state of anxiety as Zed, it's the nightmares he can't wake from that are just as bad. The hospital is shot so clinically and uncaringly that these scenes feel like a body-horror film; Zed is trapped in a David Cronenberg movie and unable to acknowledge the decay he's experiencing.
Considering this is Bassam Tariq's first fiction feature as director (co-written with Ahmed), Mogul Mowgli's style is startlingly subtle. The same goes for plot, with the film at its most crushing in the stillness where Zed comes face-to-face with his illness and his family. A diagnosis scene neatly ties this metaphorical knot, taking place in a hospital bed as his father stands over him. A doctor says that the disease is hereditary. His blood is breaking down his muscles: "Your body can't recognise itself, so it's attacking itself."
Through all of Mogul Mowgli's hauntings and intergenerational trauma, there's an ambiguity at the forefront. In the real world, people don't get the catharsis of melodrama, and it's in this uncertainty that the audience becomes so invested in Zed. Complex histories aren't simple to reconcile, and Mogul Mowgli traces the many difficulties and intimacies of a man trying to establish himself on his own terms – as a rapper, a second-generation Pakistani immigrant, a person with chronic illness. These flow into and across one another, equally like blood and the rhythm of his music.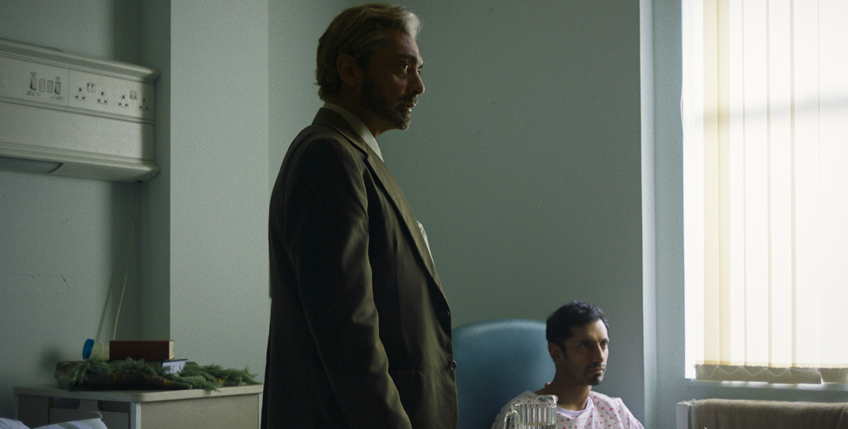 Mogul Mowgli
Bassam Tariq's debut fiction feature, Mogul Mowgli, interrogates diaspora, intergenerational trauma and displacement down to a molecular level. Riz Ahmed (Rogue One, Nightcrawler) draws from his own British-Pakistani roots to deliver a personal performance as Zed, a rapper whose shot at stardom comes crashing down when he develops a crippling disorder on the eve of his tour, just as he has returned to his family's London home.
Zed is boxed in by a family history he barely knows, and the expectations and stereotypes tied to his Pakistani heritage. Tariq depicts this claustrophobia across Mogul Mowgli's cinematography and soundscape that navigate packed-out rap battles and sterile hospital corridors. The film is framed in a square aspect ratio that evokes Zed's physically suffocating relationship to his roots. This sense of entrapment manifests even in the sound design: barely perceptible whispers, lyrics and fragments of prayer in Urdu convey Zed's insistent inner voice as one deteriorating in clarity, much like his failing body. This sense of visual and aural confinement gains a physical form when the film dips into magic realism, arriving in the form of a flower-clad shaman – a known cultural symbol for the Partition – who haunts Zed as his body fails.
The film uses Zed's degenerative disease to flesh out its portrayal of his body and mind as a site of revelation around his family's hidden past. Ahmed's resolve to wholly embody Zed's decreasing mobility shines through Tariq's crippling close-ups of the aspiring rapper dragging his fingers to answer the phone or trembling with the effort to turn his head towards his father. These scenes play in shocking contrast to Zed's vibrant command of his body during his rap performances.
Ahmed's admirable physical commitment to the role notwithstanding, the recurring dreamlike sequences in which Zed's surroundings quake to reflect the movement of the train on which his parents fled Pakistan during Partition comprise the film's least subtle representations of inherited trauma. While these visual techniques propel the film, their frequency also risks the viewer becoming desensitised to them.
Mogul Mowgli reveals that Zed's disease is genetic, but it does not cement the relationship of the illness to the theme of traumatic familial legacies. Brought up once by Zed's father and then never again, it's a detail sacrificed to keep eyes trained, rightfully, on Ahmed's commanding performance. But the audience is left with a final scene of Zed and his father rapping Zed's lyrics in a rare moment of unity – a scene that reads like a postcard attempting to disguise a tumultuous holiday. Bumps in execution make Mogul Mowgli's exploration of Pakistani diaspora and the inherited trauma following Partition a little unsteady; nonetheless, it is a strong fiction debut that is a haunting spectacle for the senses.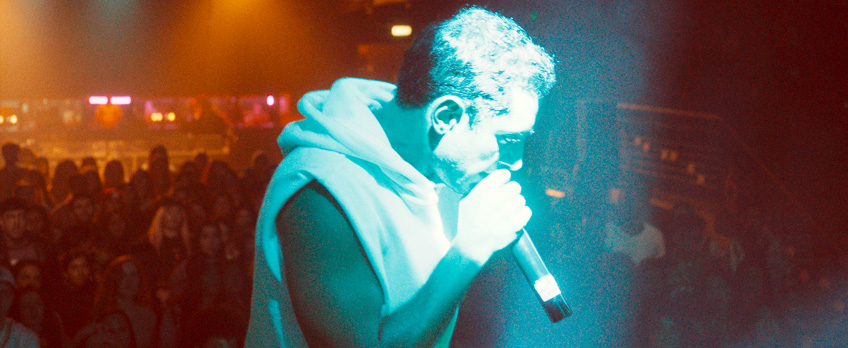 Mogul Mowgli
Mogul Mowgli is more than a coming-of-age drama. It explores in detail the intergenerational trauma of Zed (Riz Ahmed, Nightcrawler), a British Muslim rapper of Pakistani heritage. Pakistan-born American filmmaker Bassam Tariq co-wrote the script with Ahmed, who is also a real-life musician and has been vocal about his struggles with his ethnic and Muslim identities in the past.
The film starts with the New York–based Zed, whose real name is Zaheer, visiting his ageing parents in London on the eve of a major music tour. Veteran South Asian diaspora actors Sudha Bhuchar (Mary Poppins Returns) and Alyy Khan (A Mighty Heart) play his parents, who pamper him once he reaches their middle-class home, forgiving him instantly for not visiting them in two years. In patriarchal South Asian families, sons are often indulged, so it is clear that Zed – an only child – occupies a hallowed space. But in a masterfully executed family dinner scene with his extended relatives, his identity crisis reaches a flashpoint. Here, he is reminded that his first identity is Zaheer, a Muslim, rather than Zed, a rapper.
To make things even more complicated, he is diagnosed with a crippling autoimmune disease that renders him unable to use his legs. It is through his struggles with this disease, and the heightened, tense interactions he has with his family, that we get a visceral picture of the sense of displacement that haunts many young second-generation Pakistani immigrants in the UK.
The introduction of magic realism gives further urgency to the displacement of Zed's cultural identity. The mad figure of Toba Tek Singh – an iconic literary character in the Indian subcontinent, signifying the madness and violence of Partition – enters as an apparition while Zed is in hospital. This rhetorical device, employed brilliantly by the director, allows us into Zed's mindscape, and we realise that the trauma of physical and cultural displacement is not over. He sees flashes of Singh mocking and taunting him, and has haunting visions of the bloodied trains that travelled between India and Pakistan, carrying the mutilated and dismembered (a reference to another canonical text of Partition literature, Khushwant Singh's Train to Pakistan). These plot devices illustrate the intergenerational trauma that afflicts Zed, reminding us that the past is always present.
Mogul Mowgli is another addition to the already-rich filmic repertoire of the South Asian diaspora in the UK. Ahmed's emotive performance as the conflicted rapper leaves a lasting impression, and will resonate with young Muslims struggling with questions of their identity and culture.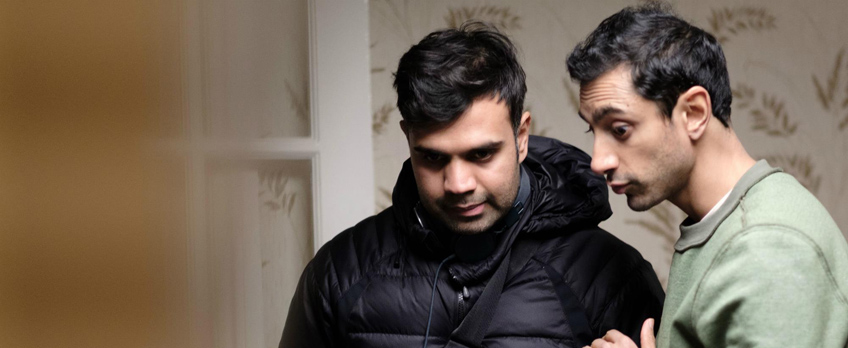 Mogul Mowgli director/co-writer Bassam Tariq and star/co-writer Riz Ahmed
Pakistani-American documentary filmmaker Bassam Tariq's first narrative feature, Mogul Mowgli, co-written by and starring Riz Ahmed (Rogue One, Nightcrawler), is as much about ghosts as it is music.
Ahmed plays Zed, a British-Pakistani rapper who stands at the cusp of stardom as he creeps towards middle age. While visiting his family on the eve of a career-changing tour, Zed is struck down by a hereditary illness that leaves him hospitalised. From there, the film features little external action; instead it leads us inwards, on a deep exploration of Zed's insecurities and fractured sense of self.
The classic story of a prematurely stifled career functions as a springboard for a more complex study of family relationships and immigrant identity. Returning home to London after years spent in the USA, Zed seems out of place in the analog mundanity of his childhood home. As he interacts with his family (who call him by his birth name, Zaheer), it is clear that, for all his bravado on stage, Zed is uncomfortable with himself.
This idea diffuses into every aspect of Mogul Mowgli, including Zed's sudden illness. A nurse's explanation to Zed that his "body can't recognise itself, so it's attacking itself" carries a clear double meaning. Zed's personal crisis unfolds through a series of visually inventive, nightmarish scenes, creating a murky slippage between memory, hallucination and reality. Zed is haunted by a recurring vision of his father's displacement from India. He's also repeatedly taunted by a chortling, masked figure from Pakistani lore that he hazily believes is trying to tell him something.
In any other story, these sequences might seem surreal for the sake of it, but Mogul Mowgli uses them in service of an insightful and original rumination on immigrant identity and the effects of intergenerational trauma. The film suggests that the violent Partition of India and Pakistan continues to reverberate across time into the modern-day UK. As Zed raps, "My ancestors, Indian, but India wasn't for us."
The music, while used surprisingly sparingly, punctuates the film with moments of intensity and grit. Ahmed's real-life rap background (his second hip-hop LP, The Long Goodbye, was released earlier this year) is put on show, from an intense live performance in the film's opening scene to quieter, introspective verses that function as soliloquy. For Zed, rapping is as much personal expression and meditation as it is performance. Indeed, it is music, ultimately, that offers Zed some solid ground. The ghosts of the past need not so much an exorcism, but to be heard.
Mogul Mowgli screened as part of the MIFF 68½ program in 2020.