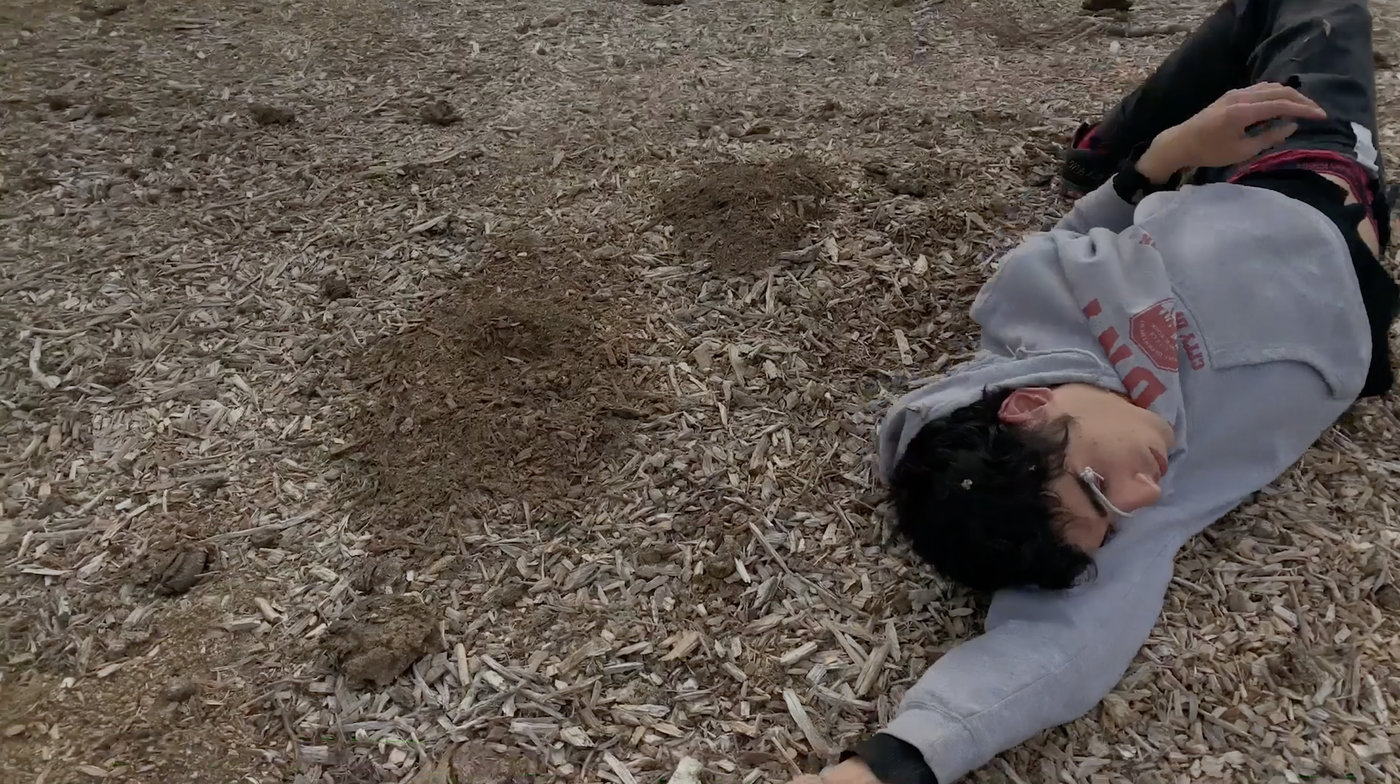 Around, Back and Beyond with Fox Maxy's Maat Means Land
Critics Campus 2021 participant Muhib Nabulsi considers questions of coherence, resistance and embodied sovereignty in Fox Maxy's experimental short Maat Means Land.
"At that time, it looked as if we were fragmented and we didn't have anything to organise around." A few minutes into Fox Maxy's short Maat Means Land, we hear these words, not knowing to whom they belong or to what they refer. Yet they resonate with what we've seen up to that point: a series of visual fragments, snippets of footage shot in heterogeneous locations, some of which appear for just seconds. Of all the questions that arise for us viewers as we try to find our feet in this chaotic visual field, the film provides an answer to exactly one.
Much like for the other shorts made by the young Ipai Kumeyaay and Payómkawichum filmmaker since early 2020, saying that Maat Means Land eschews the conventions of narrative and documentary cinema is a laughable understatement. The film is a series of disparate images, mostly sourced from Maxy's personal archive spanning 10 years, stitched together to the precarious rhythms of a distorted pop, rap and electronic soundscape. To write about the film without bending it to a narrative arc that betrays its power might be impossible.
Maat Means Land simply doesn't follow. One second, we're among trees buried in feet of snow; the next, on the New York subway, then in what looks like someone's backyard. Never is the viewer told what, who or where is being depicted, nor is any sense of chronology communicated. In lieu of narrative or conventional genre markers, what we have is a description of the film as 'diaristic'. While this makes sense insofar as much of the footage is of the spontaneous smartphone kind, it misleadingly implies a certain intimacy between filmmaker and viewer; more specifically, it invokes an invitation from the former to the latter to share in the intimacy of the social spaces depicted. Sure, many of the film's shots show Maxy and friends doing little more than goofing around. But we know nothing about these people or their environs as they flicker across the screen – there one moment, then gone, not to appear again.
One person who appears is identifiable: Maxy himself. When someone watches Maat Means Land, they know that he is a Native filmmaker (I use the term 'Native' as Maxy has expressed it as his preference). Maxy anticipates this. In one of the few segments that might be described as a 'scene' in the traditional cinematic sense, a person in a clearing between wooded areas engages in what looks like a lethargic kind of dance, spinning and stumbling as the camera follows a similarly whimsical trajectory, dipping and soaring in pursuit. Then, an almost subliminal provocation as a street view from a city office window briefly interrupts the scene – one of the film's many intentionally jarring moments. Just as we begin to project ourselves into the spaces depicted, we are denied entry. Rather than allowing us in, by cutting between different locations, Maxy asserts his presence in and across all of them, thereby rendering continuous a series of seemingly disparate images.
If dislocation were to occur in Maat Means Land, it would be due to non-Indigenous viewers categorising each image between one of two camps – 'rural' or 'urban' – and asking, Which image shows Maxy's people's land? This is, of course, not a question but a demand: for the performance of Indigeneity in accordance with the settler-colonial imaginary. Maxy denies the viewer this performance. One shot does so humorously: at a Native cultural event, Maxy focuses the shot on his and his neighbour's Nikes, while the event they're watching is only just visible at the top of the screen. On a formal level, by eschewing linear time and cutting unpredictably between footage of different places, Maxy withholds from the viewer the knowledge to claim, or the comfortable spatial perspective from which we might claim to know, any of the land/s depicted. In doing so, he challenges the terms used to exclude First Nations peoples from the seats of institutional power in America's cities: "back then when they retained their culture", "out there on the reservation".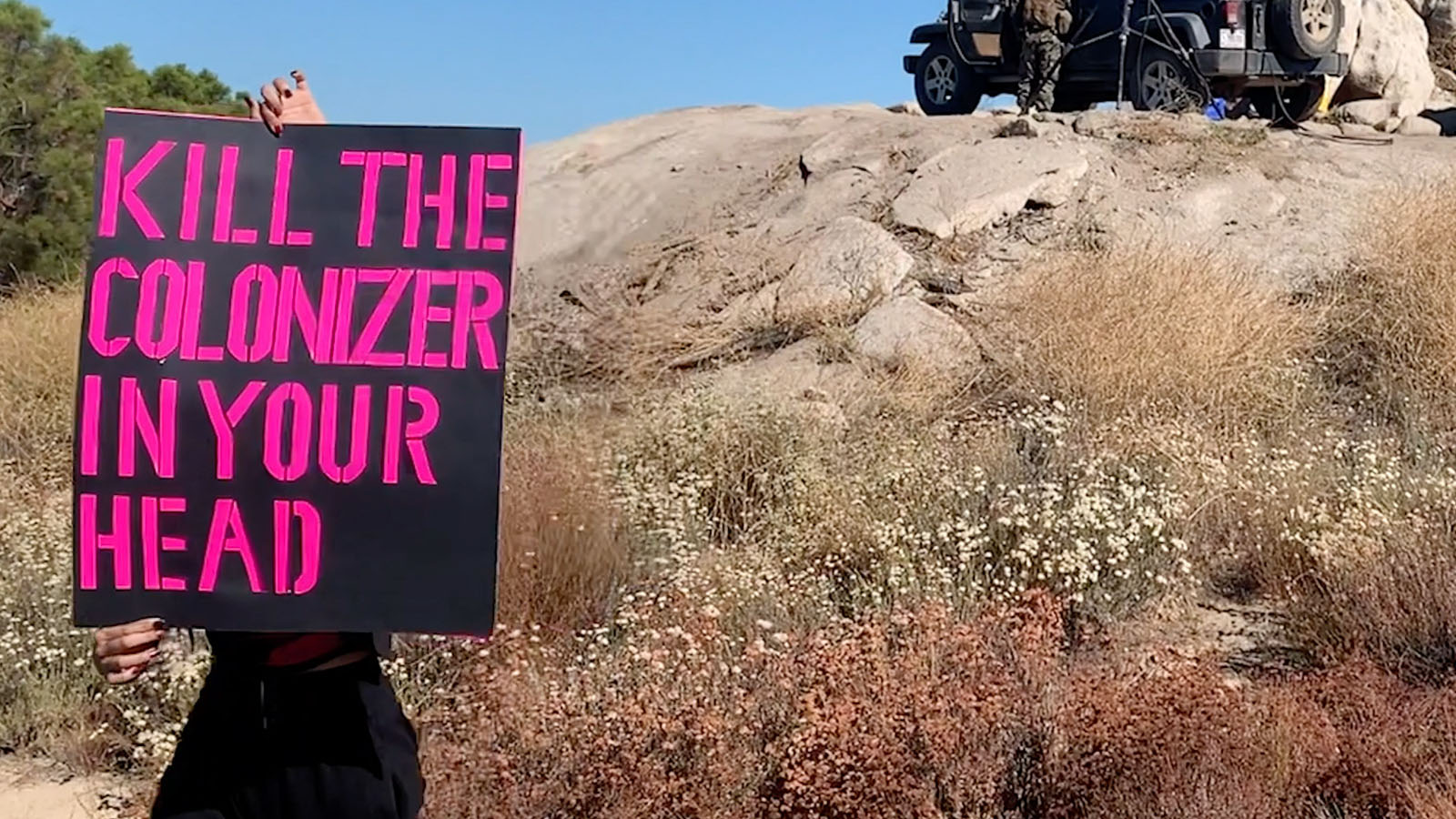 Maat Means Land

Despite all of this, at no point does it feel like the film has been designed to do what I have just described – absent is the hollow rage of an artwork created solely in opposition. The above analysis only came to me in writing; while watching Maat Means Land, I was transfixed by questions around the creative process that brought it to life. Imagine, now, what an archive of 10 years of smartphone video footage created by a prolific auto-documentarian looks like. In the absence of narrative, nor any dialectical montage, how did Maxy choose each shot? From the outset, the film exudes a rhythmic quality in its play between sound and image, without resorting to the on-the-beat cuts of music videos. In its atypical rhythm, it suggests intuition at work at every turn. It was no surprise, then, to read that Maxy works from sound to image, first creating the soundscape before beginning an editing process he describes as "completely emotional": "If I miss somebody, I'll pull up footage of them, and start editing that footage, playing with it or layering it over other videos in order to build something from the connections that I start to see." In Maat Means Land, what comes into being from these connections, and the intuitive editing process that makes them, is not a refutation of Indigenous peoples' negation but an assertion of Native presence.
Editing the film, according to Maxy, was part of the process of re-engaging with the community of the reservation on which much of his family lives, and to which he had recently returned after having spent almost a decade in New York City, studying at the Pratt Institute and working in the fashion industry. It was a process that presented numerous obstacles. While putting together Maat Means Land, Maxy was going with his family to the border wall, at the time under construction on Kumeyaay land. "We were putting our bodies on top of explosives," he recounts in an interview with White Mountain Apache artist and musician Laura Ortman. "We were fighting with border patrol; we were standing in front of buildings in San Diego." In the same interview, Maxy describes feeling disillusioned by the continued construction of the wall despite his, his family's and other activists' efforts. Maat Means Land, however, is by no means a disavowal of protest politics. In fact, First Nations peoples standing their ground on their own land might not be considered 'protest politics' at all, but an enactment of sovereignty.
Eventually, we do find out to whom those words belong: legendary Indigenous Hawaiian activist, educator and writer Haunani-Kay Trask, speaking in 1982 at a rally held in tribute for Indigenous Hawaiian activists George Helm and Kimo Mitchell. The footage of Trask's speech is one of several videos drawn from beyond Maxy's personal archive. These videos are repurposed from a range of sources: one is a scene from an old western; another, footage from a Democracy Now! news story. The majority, however, show First Nations people speaking. Rather than displaying this archival footage full screen, Maxy places the videos in virtual worlds, many on screens within scenes from The Sims and Grand Theft Auto. These segments have been much-hyped for their formal ingenuity (and rightfully so), lauded as epitomising a uniquely contemporary aesthetic – one film-programmer friend referred to it as "post-TikTok".
But classifying Maat Means Land as 'of its time' in this way risks obscuring the temporal dissonance and discomfort that these scenes engender. For millennials and much of Gen Z, The Sims elicits a visceral generational nostalgia, something that Maxy presumably shares. The First Nations people in the videos embody a different temporality: Indigenous resistance to ongoing colonisation. This is more than just a way to complicate the affect of nostalgia for the non-Indigenous viewer; it is an expression of Maxy's location within and between these temporalities. That being said, it's hard to deny his affection for meme-aesthetics and their influence on his approach to filmmaking; in many ways, it is distinctly of the current moment. The relationship to land and time expressed in Maxy's powerful juxtaposition of conflicting temporalities, however, is anything but new.

Maat Means Land screened as part of the MIFF 69 program in 2021.