Merryana Salem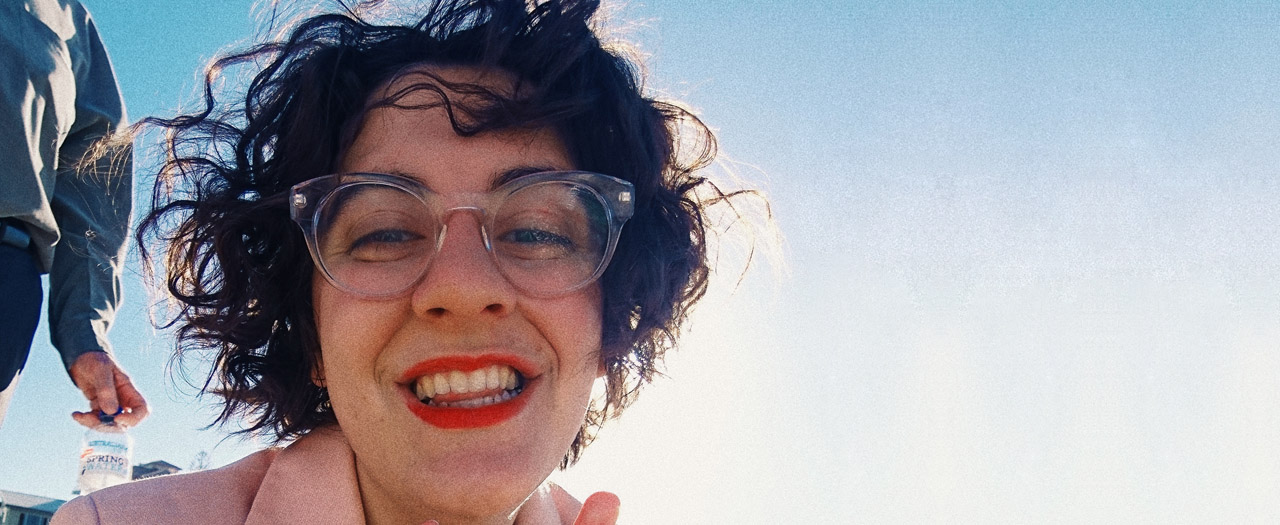 Merryana Salem is a proud Wonnarua and Lebanese-Australian critic, teacher, communications graduate researcher and freelance writer. You can find her around social media at @akajustmerry, and her writings in Kill Your Darlings, Junkee and The Big Issue. Aside from being addicted to film and television, she also co-hosts a podcast called GayV Club, in which she critically gushes about queer media with her best friend. But, mostly, she hopes you ate something nice today.
Twitter: @akajustmerry
Website: akajustmerry.wordpress.com
Location: Awabakal country / Newcastle
Movie location I call home: Physically, my body may be anywhere, but mentally, spiritually and emotionally, I am always holed up in Wellington, New Zealand, with the four vampires in Taika Waititi's What We Do in the Shadows, avoiding the dishes and sunlight, and making self-deprecating dad jokes about the inconveniences of relying on humans to survive.
The film that made me want to write about the screen: I've always loved writing and thinking about stories because I'd love to write my own. But possibly my first 'published' piece of criticism was a PowerPoint presentation I gave in year five to my class about why I disagreed that Catwoman (2004) was a 'bad' film. The main points I recall were: "There are lots of cute cats," "Halle Berry's hair is cool and she does her own fighting," and that it "shows the beauty industry is the real evil". Points I still stand by today, though I recognise now I may have been under the influence of my unconscious bias, which is that… I was very in love with Halle Berry.
Why film criticism matters in 2020: There's an argument that criticism is less necessary with so many films delayed indefinitely in 2020, but people are still watching films and consuming stories (more than ever, really). Where there are stories, where there are films, there must be criticism to keep us from complacency, to inspire us to see more than we thought we could, to encourage empathy and to make us laugh. Encouraging people to criticise what they watch encourages them to think critically in every aspect of their life. God knows, with all this information saturation, we need that skill more than ever.
A critic who has inspired me: Seren Sensei is a Black American critic, activist and YouTuber. Sensei's style of criticism boils down to accountability and education. She never fails to connect the narratives and bodies represented in films to their real-world social implications and context, and holds films accountable for their unconscious and conscious agendas. She sees criticism as a vital tool, hand in hand with activism for its required resistance to what's presented to you. This is something I believe and hope to inspire with my own criticism: a healthy and necessary resistance through education, analysis and a bit of a laugh. I believe it is the work of criticism to ensure no one is left behind in the art we create.
Favourite film I've seen this year: It's a hard tie between Ellie & Abbie (& Ellie's Dead Aunt) and Birds of Prey (and the Fantabulous Emancipation of One Harley Quinn). Ellie & Abbie because it's exactly the kind of Aussie lesbian teen comedy I needed when I was in high school, especially because of the meta way in which it contextualises Australia's LGBTQIA+ history, specifically. Not to mention I am a sucker for an inconvenient-yet-helpful haunting from secret lesbian aunts.
As for Birds of Prey? I'm just a huge Harley Quinn fan – have been since I was a teen – and seeing her in her own film that was so unabashedly, chaotically hers was better than antidepressants. Especially in a film that included so many talented, kickass women of colour both behind and in front of the camera. The love, colour and enthusiasm in every single shot, performance, and killer costuming are a thrill. Anyone who says otherwise missed the point.
In my fantasy biopic, I would be played by: Alia Shawkat, partly because she is way cooler than me in almost every perceivable way, but mostly because I'd get to meet her and get starstruck at the biopic's premiere.
My MIFF 68½ theme music: I Think We're Alone Now by Tiffany. The ultimate self-isolation romanticisation jam.