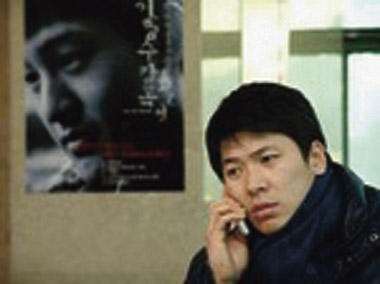 Hong Sangsoo epitomises a distinctive thread in the current generation of brilliant Korean filmmakers. His [Tale of Cinema] is an intelligent and quietly provocative film, which screened in Official Competition in Cannes, 2005.
This is a tale of characters whose lives come together but remain apart, reflecting the points of connection and disconnection that constitute the existence of all of us. The proximity between these characters is created through cinema, which acts as a mirror that reflects life and a looking-glass that enlarges it. [Tale of Cinema] opens with a story of two men and one woman, but like Chinese boxes we are watching a film of a film. A man - an unsuccessful filmmaker, we learn - leaves the cinema only to find that a beautiful young woman captures both his attention and his heart. She is the main actress from the film, which he has just seen...
Hong's elliptical and reflexive film puts the connection between art and life under the microscope, and in doing so he delivers some acute observations of human nature.
---
D Hong Sangsoo P MK2 Jeonwansa S Hyungkoo Kim, Youngrho WS MK2 L Korean w/English subtitles TD 35mm/col/2005/90mins
Hong Sangsoo was born in Seoul, South Korea, in 1962. His films include [The Virgin Stripped Bare by Her Bachelors] (MIFF 01), [The Turning Gate] (MIFF 03), [Woman is the Future of Man] (MIFF 04).