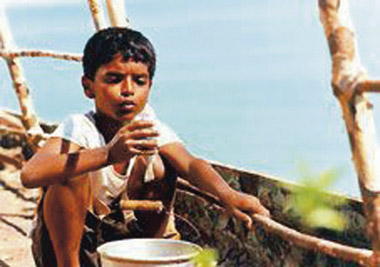 [Iron Island] is a moving but tragic story of those whose ignorance leads them to trust others who would abuse their trust in return. It is undoubtedly a parable of the rhythms and constraints of lives lived under despotic rule. This remarkable, almost surreal film screened in Directors' Fortnight at Cannes, 2005.
A group of poor, homeless refugees live in the rusting hulk of a slowly sinking oil tanker, anchored off Iran's southern coast. Captain Nemat overseas the vessel and its occupants, transacting business with them at every turn. In this self-sustaining world, Nemat organises labour and sells off any parts of the ship he can dissemble and off-load. He even meddles in the intimate lives of his charges, brokering marriages and moulding lives. When the ship owner and authorities attempt to evict Nemat and his tenants, he simply ignores them. Only one of Nemat's hapless charges, his young assistant Ahmad, refuses to blindly follow his lead, quietly playing out his love through the exchange of objects with his beloved.
This is a ship of fools that heads inevitably towards troubled waters.---D/S Mohammed Rasoulof P Abolhasan Davoodi WS Sheherazad Media International L Persian w/English subtitles TD 35mm/col/2005/90mins
Mohammed Rasoulof was born in Shiraz, Iran, in 1973. His films include [Friday] (1991, short), [The Glass House] (1997, short), [The Twilight] (2002).