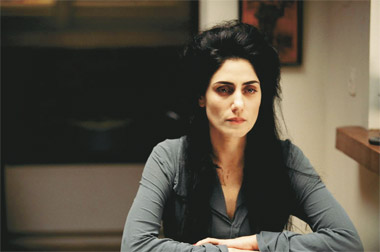 It's Haifa, circa 1979. After another series of confrontations, Viviane's seven brothers try, once again, to mediate between her and her husband, Eliyahu. She must think of the children, they remind her. Her husband doesn't gamble, or beat her, does he' But reminders of social obligation are not spiritual nourishment for Viviane, and when an old lover calls she has a chance to escape the bland authority of her husband. With an emotional sincerity reminiscent of John Cassavetes, [To Take A Wife] is a startling, quietly devastating melodrama, both uniquely Israeli and disturbingly universal. Co-directed by Shlomi Elkabetz and his sister Ronit Elkabetz, who takes the lead role, [To Take a Wife] received the Audience Award for Best Film in Critics' Week at the Venice Film Festival.
"[To Take a Wife]... has excelled in its portrayal of the tormented soul of a sensitive and capable woman who has to lead a life restricted within the four walls of a crammed apartment. Superbly acted by Ronit Elkabetz" - Fipresci.org
---
D/S Ronit Elkabetz, Shlomi Elkabetz P Marek Rosenbaum, Itai Tamir, Jean Philippe Reza, Eric Cohen WS Transfax Film Production TD 35mm/col/2004/97mins
Ronit Elkabetz was born in Ber'er Sheva, Israel, in 1965. Shlomi Elkabetz was born in Israel in 1973. [To Take a Wife] (MIFF 05) is their first feature film.