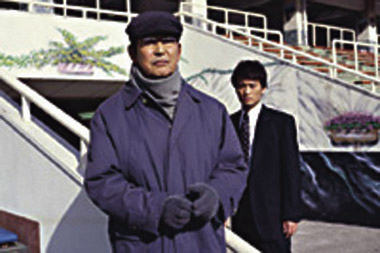 Hideyuki Hirayama's [Lady Joker] was inspired by the unsolved 1984 kidnapping of a company president that launched a nationwide manhunt and generated massive media coverage. Based on a bestselling novel by Kaoru Takamura, it's a compelling look at the downside of Japan's spectacular economic growth in the 1980s, a group united by their experience of being on the receiving end of corruption, discrimination and poverty. [Lady Joker] is a crime thriller that is dark, complex and offbeat.
Five kidnappers, led by an elderly but still formidable drugstore owner, first meet at a racetrack, where they have come less to make a killing than to kill time. These five have skills, if not temperaments, that complement each other, and when they decide to kidnap the saturnine president of Hinode Beer, their plan goes like clockwork. The police frantically search for leads, but are perplexed by the conflicting and varied motives that are touted. In this story, from the top echelons of Japanese society to the bottom, no-one has clean hands.---D Hideyuki Hirayama P Ishihara Kiyoyuki S Chong Wishing WS Nikkatsu Corporation L Japanese w/English subtitles TD 35mm/col/2004/121mins
Hideyuki Hirayama was born in Fukuoka, Japan, in 1950. His films include [Laughing Frog] (2002), [Samurai Resurrection] (2003).