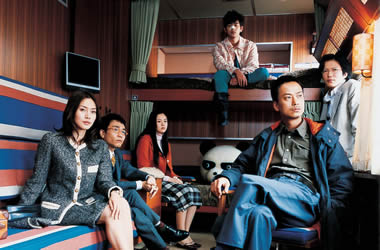 Aboard the overnight Twilight Express from Osaka to Sapporo is a team of swindlers. Their attempt to reconstitute the team - with a new leader - after three years had seemed almost impossible from the beginning, but the Sapporo operation turns out successful enough to fill a suitcase with cash. Their brief euphoria turns instantly to doubt and paranoia when the suitcase goes missing. The hidden and intricate intimacies between the six make the situation even more tangled. Who's lying' Who's playing whom'
[Thirty Lies or So] is much more than just a series of plot twists and reversals - although there are plenty of those. A cast of some of Japan's best young actors brings a great scenario to life, taking full advantage of the opportunity to explore the human consequences of the roller-coasting con game they're in. Happily immersing itself in the ever-growing complication of their relationships, [Thirty Lies or So] crafts a perfect blend of humour, pathos and suspense.
---
D Otani Kentaro P Kubota Osamu, Ogawa Shinji S Tsuchida Hideo, Otani Kentaro, Watanabe Aya WS Asmik Ace Entertainment L Japanese w/English subtitles TD 35mm/col/2004/100mins
Otani Kentaro was born in Kyoto, Japan, in 1965. His films include [Avec Mon Mari] (1999), [Travail] (2002).