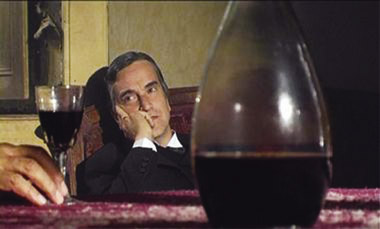 Following more than three decades in exile, acclaimed Chilean auteur Raul Ruiz returns to his homeland to bring cinema audiences [Dias de Campo]. This film was inspired by two stories from Chilean novelist Frederico Gana, as indeed it was by the life of the novelist himself.
Set in a bar in Santiago, two elderly gents sit together and ruminate, each with a glass of wine in hand, a fillip to loosen the tongue. One of the two is Don Frederico, a writer with a novel in progress. The restrained action of this enigmatic film is in the carefully crafted conversation between the two men. Their talk shifts between perspective and slides between tense - they even speak as if they were dead - creating an illusive sense of reality that leaves us wondering just which world these characters inhabit. This is an elliptical and intriguing film that cuts across conventional narrative structures, and it is a film that doubtlessly owes something to the magical realism for which the artists of this continent are well known.
*IMPORTANT NOTE*
Due to circumstances beyond MIFF's control DIAS DE CAMPO, screening will screen in Spanish (original language) with French subtitles.
---
D/S Raul Ruiz P Francois Margolin WS Margo Films L Spanish w/English subtitles TD 35mm/col/2004/90mins
Raul Ruiz was born in Chile in 1941. His films include [Comedy of Innocence] (2000), [Chilean Rhapsody] (2002), [That Day] (2003).