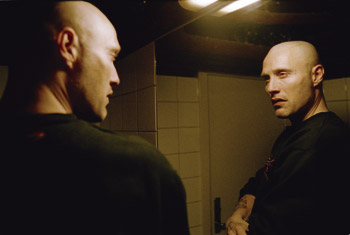 Just out of prison after 13 months, Tonny discovers that he has a child. He also has a debt to his father, the most vicious gangster in Copenhagen. Tonny desperately wants to find his feet, so he goes to his father to pay his dues and also to regain his respect.
But as he goes about his business, his resolute stupidity and bad decision-making threatens to destroy everyone. The only thing he seems to be regaining is his bad rep. His father makes it abundantly clear that Tonny is worthless and unwelcome, especially after he impulsively steals a smart Ferrari Testarossa with a tracking device and brings it home to Daddy like an eager-to-please puppy.
In a universe of drug dealing and abuse, semi-bourgeois ideals and sex trafficking, mindless violence and unutterable emotions, the increasingly manic Tonny pushes blindly on.
Director Nicholas Winding Refn creates a furious, hyper-realistic window into the Copenhagen underworld, and lead actor Mads Mikkelsen delivers the performance of his career as the luckless Tonny.
Contains scenes that may offend some viewers
---
D/S Nicolas Winding Refn P Henrik Danstrup WS Nordisk Film International Sales L Danish w/English subtitles TD 35mm/col/ 2004/96mins
Nicolas Winding Refn was born in Denmark in 1970. His films include [Pusher] (1996), [Bleeder] (1999), [Fear X] (2003).