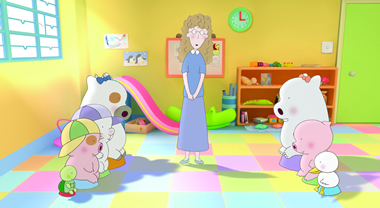 [McDull, Prince de la Bun] is the (almost surreal) sequel to Annecy Film Festival winner [My Life as McDull] (MIFF 03). Some of the film's verbal play is lost in translation, but this remains a beguiling life story of kindergarten piglet McDull (Lam Yat-fung) and his long-lost father Prince de la Bun (Andy Lau!).
McDull's Spring Flower Kindergarten is slated for redevelopment, along with the young piglet's home and much of Hong Kong. With redevelopment on the horizon, McDull's mother (Sandra Ng) awaits compensation. McDull then develops a perplexing leg-jiggling tic, with which he makes virtuoso performances to Bach. In an effort to cheer the jiggling McDull, Mrs McBing tells him the tale of his "moronic" old man - a prince who got lost and thought he was a humble commoner, and then left her alone to raise their son while he recaptured his regal past.
[McDull] recounts the story of the piglet and of the reconfiguring of Hong Kong through the remarkable pastel illustrations of a talented creative team, led by Toe Yuen.
---
D Toe Yuen P/S Brian Tse WS Golden Network Asia Ltd L English, Mandarin, Cantonese w/English subtitles TD 35mm/col/2004/78mins
Toe Yuen's films include [Explanations] (1995, short), [Foulball] (1996, short), [My Life As McDull] (MIFF 03).