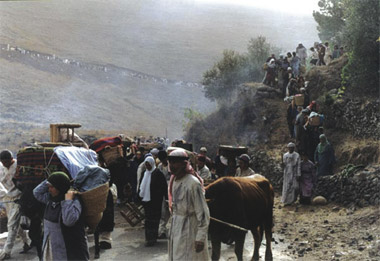 [The Door to the Sun] is an epic history struck through with suffering, hope and love. This powerful film, screened at Cannes last year, is adapted from a novel by Elias Khoury.
Told with daring and sensitivity, Yousry Nasrallah, longtime collaborator of Youssef Chahine, charts the dispossession of the Palestinian people through the stories of two generations of family. This layered tale begins in 1948, with the lives of Younes and his young wife, Nahila, radically transformed by the blasts of Israeli artillery. Shunted from camp to camp, these victims of history become rootless refugees in their own land. Several years later, Kahlil, the surrogate son of Younes, seeks to rescue the man who once saved him and to reconnect with his estranged mother. This metaphorically recasts the past, making a tentative step towards the symbolic 'door to the sun' - a homeland beyond the bullets and bullying of the Israeli state.
Through flashbacks, contemporary drama and affecting poeticism, Nasrallah crafts a beautiful and sensitive narrative of a people's loss, longing and perseverance.---D Yousry Nasrallah P Humbert Balsan S Elias Khoury, Mohammed Soueld, Yousry Nasrallah WS Pyramide International L Arabic, French w/English subtitles TD 35mm/col/2003/278mins
Yousry Nasrallah was born in Cairo, Egypt, in 1952. His films include [Mercedes] (1992), [La ville/El Medina] (1998).