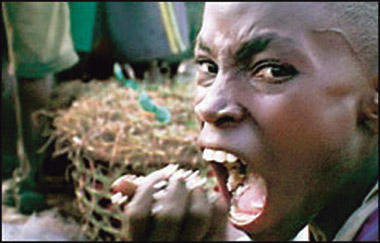 With virtuoso skill and devastating insight, [Darwin's Nightmare] accumulates the myriad human aspects of a compelling story to create a comprehensive, harrowing look at the human costs of the exploitation of Africa's resources by the developed world.
Some time in the 1960s, in the heart of Africa, a new animal was introduced into Lake Victoria as a 'little scientific experiment'. The Nile Perch, a voracious predator, proceeded to extinguish almost the entire stock of the native fish species. Its own multiplication made it an incredible resource, its white fillets becoming a staple on European dinner tables. Today it is snap-frozen and flown out, along with the profits, leaving only the scraps for a local population priced out of the market. This booming industry has created an ungodly globalised alliance on the shores of the world's largest tropical lake: an army of local fishermen, World Bank agents, homeless children, African ministers, EU commissioners, Tanzanian prostitutes, Russian pilots and, disturbingly, international illegal arms traders.
Awarded Best Documentary at the European Film Awards, [Darwin's Nightmare] is essential viewing.---D/P/S Hubert Sauper P Edouard Mauriat, Antonin Svoboda, Martin Gschlacht, Barbara Albert, Hubert Toint WS Celluloid Dreams L Russian, Swahili w/English subtitles TD 35mm/col/2004/107mins
Hubert Sauper was born in Tirol, Austria. His films include [So I Sleepwalk in Broad Daylight] (1994), [Lomographer's Moscow] (1995), [Kisangani Diary] (1997), [Alone with Our Stories] (2000).