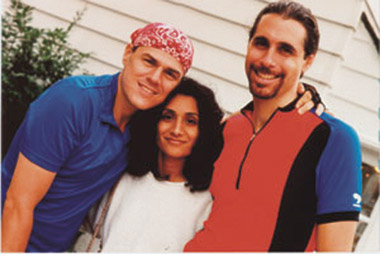 First there was Sam and Steven, who met in the early 1980s, and then there was Sam, Steven and Samantha. Seven years after Sam and Steven fell in love - and a few years after the charismatic Sam suggested it "would be great" to have a woman in the relationship - they met Samantha. Sam and Samantha immediately fell head over heels, but a warm and abiding love soon grew between Samantha and Steven as well.
Susan Kaplan's [Three of Hearts] is an empathetic, observant and non-sensationalist portrait of this unusual, 'trinogomous' relationship. We enter the story several years after its genesis, learning of its complexities through often-amusing anecdotes, the reflections of the trio, and the observations and opinions of families and friends. The trio is trying for a child, but whose child' The only sure thing is that its name will begin with 'S'. There's a lot of love in this relationship, but it is buffeted by the strains of any heterosexual or bipartite relationship. Over six years, two pregnancies and three people's therapy, we come to know the trio that arrives at their own self-discovery after 13 years' cohabitation.
Sarie Horowitz will be attending the festival.
---
D Susan Kaplan P Susan Kaplan, Sarie Horowitz WS Films Transit TD video/col/2004/95mins
[Three of Hearts: A Postmodern Family] (MIFF 05) is Susan Kaplan's first feature documentary.