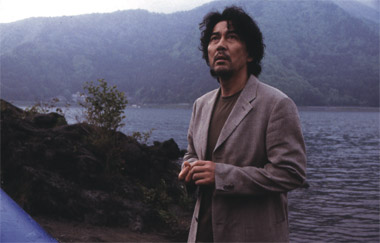 [Lakeside Murder Case], directed by Aoyama Shinji ([Eureka], MIFF 00), is a dark, multilayered psychodrama wrapped around a murder mystery. Probing the ills of the Japanese education system and the attendant pressures of parental obligation, it reveals what many would prefer remained out of view - in the form of an unwanted corpse.
Photographer Namiki (Koji Yakusho) tells his inquisitive mistress/assistant, Eisako, that in order to help his stepdaughter get into an elite school he plans to attends an intensive study session with her. Albeit reluctantly, he'll pose as her happily married father with his ex-wife. An underhand way of getting their kids into the school, the program has been organised with the school's corrupt principal, Tsukumi, to help the students pass their entrance tests.
Later, Eisako is found dead at the school. Namiki's ex-wife unexpectedly confesses to Tsukumi and the other parents. Desperate not to reveal what they've been involved in, and to safeguard their children's futures, the parents conspire to keep the terrible crime secret. Slowly they begin to understand the complex repercussions of their decision. ---D Aoyama Shinji P Takenori Sento S Masaki Fukusawa, Aoyama Shinji WS Rumble Fish, Inc. L Japanese w/English subtitles TD 35mm/col/ 2004/118mins
Aoyama Shinji was born in Fukuoka, Japan, in 1964. His films include [Two Punks] (1996), [Wild Life] (1997), [Obsession] (1997).