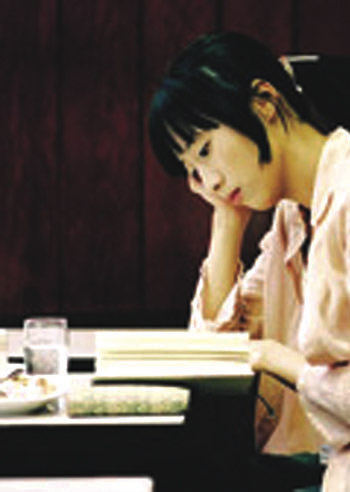 In [Cafe Lumiere] Hou Hsiao-hsien has fashioned a superb homage to Japan's master filmmaker Ozu Yasujiro, incorporating some reverent references to his 1953 [Tokyo Story].
[Cafe Lumiere] is a delicately paced film that focuses on Yoko, a young Japanese journalist researching the life of an acclaimed Taiwanese musician. Yoko has a boyfriend in Taiwan to whom she has become pregnant, and the film is set over the early weeks of her pregnancy, reflecting on the rub between contemporary and traditional Japan as Yoko's parents struggle to understand her decision to raise her child alone. This finely wrought film is far more than this central narrative suggests; given equal weight are the intimate, contained world that Yoko has built for herself; her warm friendship with Hajime (Japanese superstar Asano Tadanobu); and her search for clues as to the life of the musician.
Hou's overwhelming use of middle-distant shots places the viewer as observer, and his stunning urban landscapes and recurring motif of trains sets this personal story within the broader context of modern Japan.
---
D Hou Hsiao-hsien P Hideshi Miyajima, Liao Ching-sung, Ichiro Yamamoto, Fumiko Osaka S Hou Hsiao-hsen, Chu T'ien-wen WS Wild Bunch L Japanese w/English subtitles TD 35mm/col/2004/104mins
Hou Hsiao-hsien was born in Guandong Province, China, in 1947. His films include [Dust in the Wind] (1987), [Good Men, Good Women] (1995), [Flowers of Shanghai] (1998).