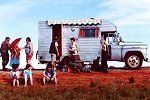 [Rolling Family] is rooted in the stories of director Pablo Trapero's own family and friends. Somewhere between a road movie and a family drama, it takes its wonderfully authentic cast on a journey through the emotional labyrinth of familial relationships. Emila, Trapero's own grandmother, receives word that a distant niece would like her to be matron of honour at her wedding. She rallies four generations of family into her son's homemade campervan for the trip to Misiones, on Argentina's border with Brazil.
"[Familia Rodante] is a warm, vivacious film about family relationships, love and the life that gets its colour thanks to our personal choices and memories. Between the starting point, Buenos Aires, and the destination, Misiones, all the anger, sorrow, attraction and warmth between four cramped generations come to the surface. A glimpse of family life with plenty of humour, latent melancholy, moving music and beautiful, refined camerawork." - Rotterdam Film Festival
The multi-talented Trapero also produced [Geminis], which featured in Directors' Fortnight at Cannes this year, and features in MIFF.
---
D/P/S Pablo Trapero WS Buena Onda Films L Spanish w/English subtitles TD 35mm/col/2004/103mins
Pablo Trapero was born in Ramos Meija, Argentina, in 1971. His films include [Mocoso Malcriado] (1993, short), [Mundo Grua] (1999), [El Bonaerense] (2002).