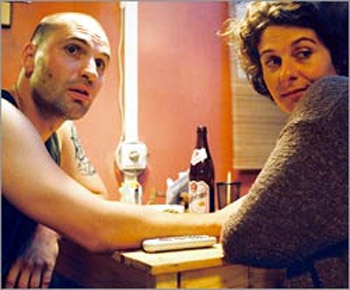 Europe of the new century is a world with strong undertows. In his [Up and Down], Jan Hrebejk takes a darkly comic look at globalisation, xenophobia and changing society through the colliding worlds of a colourful cast of characters.
The bleeding-heart liberal Otto is a professor. He is married to the younger Hanka, who works with refugees and for whom he left his first wife, Vera. One day when delivering a lecture on immigration, Otto collapses. The news that he is in need of a heart operation leads him to seek a reunion with his embittered ex-wife and his son, the latter having immigrated to Australia. From the other side of the tracks in post-Communist Prague, two truckies who transport illegal Indian immigrants across the border find themselves, inadvertently, with an Indian baby. Through a pawnshop the child passes into the arms of the desperately maternal but childless Mila and her soccer-hooligan husband, Franta. Franta overcomes the 'problem' of colour, but his buddies are not so willing.
These worlds clash and thrash spectacularly in a KFC in downtown Prague.
---
D Jan Hrebejk P Ondrej Trojan S Petr Jarchovsky WS Menemsha Films L Czech, English, German, Russian w/English subtitles TD 35mm/col/ 2004/108mins
Jan Hrebejkwas born in Prague, Czech Republic in 1967. His films include [Divided We Fall] (2000), [Pupendo] (2003).