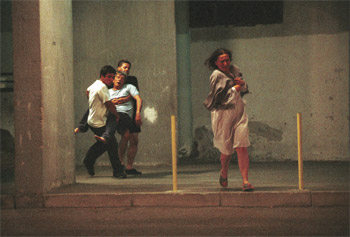 Young Vincenzo lives in a poor suburb of Naples, where he shares an apartment with his unemployed father, seamstress mother and his sister. They are tight knit, despite familial tensions. When suddenly the father dies, the lives of those he has left are thrown into disarray. The ensuing events and Vincenzo's decision to join the military and depart for Kosovo threaten the family further and leave Vincenzo on the brink of a personal abyss.
"Vincenzo Marra's carefully controlled, precisely constructed [Vento di Terra] is a study in the inspired orchestration of images and highly creative use of sound. It is a film of ellipses and absences: major narrative points are ignored and new parts of the story are introduced with no clear indication of how much time has elapsed or what has transpired in the meantime. What makes [Vento di Terra] challenging and so very engaging is that we must piece together what has happened ourselves." - Toronto Film Festival
This remarkable film was awarded the Fipresci at last year's Venice Film Festival and screened at Cannes, 2005.
---
D/S Vincento Marra P Tilde Corsi, Gianni Romoli WS Films Distribution TD 35mm/col/2004/90mins
Vincenzo Marra was born in Naples, Italy, in 1972. His films include [Una Rosa Prego] (1998), [Estranei alla Massa] (2001), [Sailing Home] (2001).