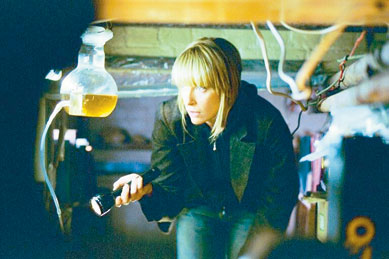 A taut psychological thriller, Like Minds was originally conceived as a documentary before turning into a fictional drama, stemming from filmmaker Gregory J. Read's fascination into what makes serial killers tick - what were they like when they were kids? Seventeen-year-old Alex Forbes is young, privileged and charged with the death of his schoolmate, Nigel Corby. With no tangible evidence, the detective on his case is under pressure from Alex's influential father to have the charges dropped. A forensic psychologist, Sally Rowe, is brought in to determine if Alex is the murderer. Delving into Alex and Nigel's bizarre world of mind games and the secret society of Knights Templar, Sally discovers that, though dead, Nigel's effect on Alex is far from over.
With Toni Collette (Japanese Story, MIFF Opening Night 2003) headlining as Sally Rowe, Like Minds boasts an exemplary cast, including Richard Roxburgh and Tom Sturridge, giving punch to a plot that's sure to keep you teetering on the edge of your seat.
Filmmakers and cast will be attending the festival.
Director Gregory J. Read will introduce the session on Thursday 10 August, 7pm at Forum Theatre.
---
D Gregory J. Read P Jonathan Shteinman, Piers Tempest Dist Dendy TD 35mm/2006/104mins
Gregory J. Read was born in Sydney, Australia, in 1962. His films include Tides of Passage (1994, short TV doco) and Spirits of the Carnival (1996, doco). Like Minds (2006) is his feature film directing debut.