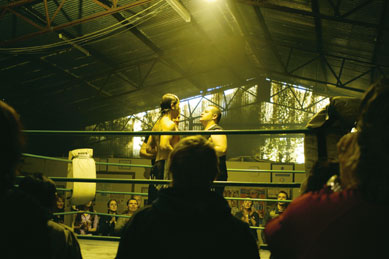 A TV journalist goes in search of a fallen idol and finds a modern-day Errol Flynn in this dark, satirical and laconic work that makes light of the ups and downs of stardom.
Actor Darren McWarren appeared in soap opera, mini-series and film before destroying his career with a series of personal indiscretions. Now, McWarren is out of the industry and living in a small coastal town. When a journalist decides to write a 'where are they now' profile on McWarren, he finds the former star has become somewhat of a country town Casanova. The local girls want to fornicate with him and their fellas want to fight him. He might not have found love - but it's the next best thing.
Filmed in and around Melbourne, Rats and Cats comes from the fertile imaginations of Tony Rogers, Adam Zwar and Jason Gann, who previously tickled audience funny bones with their award-winning short, Wilfred.
Filmmakers and cast will be attending the festival.
Tony Rogers, Adam Zwar and Jason Gann will introduce the session on Thursday 3 August, 9.15pm at ACMI. Tony Rogers will introduce the session on Sunday 13 August, 3pm Greater Union.
---
D Tony Rogers P Jason Byrne S Adam Zwar, Jason Gann TD video/2006/87mins
Tony Rogers was born in Melbourne, Australia. His films include Wilfred (short, 2002). Rats and Cats (2006) is his feature film directing debut.