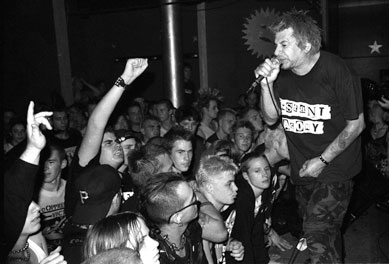 Since the Ramones' first frenetic gigs at New York's CBGBs and the Sex Pistols' infamous performance on the Thames, reverberations from the punk rock explosion have been rocking the world, moving beyond the music to influence fashion and spawn entire subcultures.
But, almost 30 years later, what does 'punk' really mean? In today's corporate music culture, where punk has become a powerful marketing tool, can the true, non-conformist spirit of punk still exist?
Featuring performances by a plethora of bands and interviews with the icons of the punk world, Susan Dynner's documentary runs the gamut of the various iterations of punk, spanning groups as diverse as the Buzzcocks, the Dead Kennedys, Minor Threat, NOFX, Green Day and Good Charlotte in its search for the legacy of punk.
Juxtaposing contemporary pop-punk culture against the raucous punk of the 70s and 80s, Punk's Not Dead is both a tribute to punk of old and a profile of its contemporary inheritors.
Director/Producer Susan Dynner and Editor/Co-Producer Patrick Barnes are guests of the festival and will introduce the session on Wednesday 2 August, 9.15pm at Greater Union. A Q&A will follow the screening. They will also introduce the session on Sunday 6 August, 9.15pm at ACMI.
---
D/P Susan Dynner WS Vision Films TD video/2006/115mins
Susan Dynner was born in Virgina, USA, in 1966. She previously co-produced the film Brick (2005). Punk's Not Dead (2006) is her feature film directing debut.