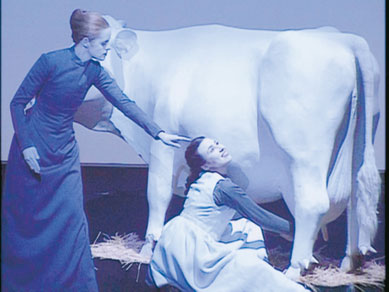 Unconventional theatre director and playwright Robert Wilson is comprehensively profiled in this candid documentary from the practiced hand of director Katharina Otto.
Best known for the avant garde 1976 production of Einstein on the Beach (for which he collaborated with Philip Glass), Wilson has been called the USA's foremost 'theatre artist', pushing restlessly at the boundaries of theatre with a relentless creativity. For the first time on camera, Wilson discusses his life and work - from his youth in Waco, Texas, where he struggled to overcome a learning disability and a speech impediment, to his explosion onto the New York theatre scene in the 70s and the success of his 1991 collaboration with Tom Waits, The Black Rider.
Rounding out the portrait of the artist is an impressive array of interviews with Wilson's artistic fellow travellers and friends, including David Byrne, Tom Waits, Philip Glass and the late Susan Sontag.
A definitive rendering of Wilson's life and work, Absolute Wilson charts the fascinating trajectory of a true artistic innovator.
---
D/S Katharina Otto-Bernstein P Katharina Otto-Bernstein, Penny CM Stankiewicz WS Kinowelt International TD 35mm/2006/109mins
Katharina Otto-Bernstein was born in Hamburg, Germany. Her films include The Second Greatest Story Ever Told (1994, TV doco) and Beautopia (1998, doco).