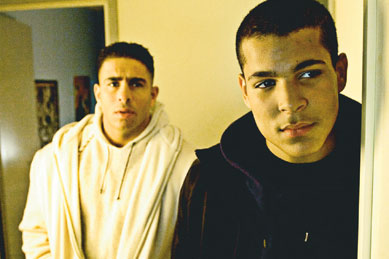 Annette Olesen's compelling denunciation of ethnic hate begins with a description of the perfect building estate then throws to a present-day, outer-Copenhagen housing project; a place far removed from the idyll.
A young man gets beaten to the point of death. His mother shoulders the blame saying it is her insistence they live amongst immigrants that has resulted in her son's fate. Meanwhile, his sister seeks comfort from her boyfriend, the son of Palestinian immigrants, who remembers seeing his older brother bloodstained on the night of the assault… yet he proclaims his innocence.
Olesen explains, "When the world as we know it changes, it makes us feel insecure. When we feel insecure, we fear we'll lose what we've got. When we fear that, we try to exert control. At best, fear is an instinct that enables us to survive. At worst, it is a cancer that spreads and mutates into angst. This is a film about fear. I wanted to tell this story eye to eye. 1 to 1."
Screened at this year's Berlin Film Festival.
---
D Annette K. Olesen P Ib Tardini S Kim Fupz Aakeson WS Trust Film Sales L Danish w/English Subtitles TD 35mm/2006/90mins
Annette K. Olesen was born in Denmark in 1965. Her films include Minor Mishaps (2002), Tifanfaya (1997, short) and Juliet's Balcony (1993, short).