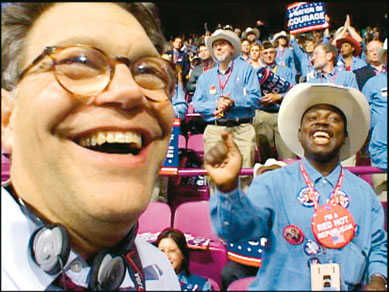 "Manages to tap into the same undercurrents of discontent and frustration that fuelled the breakthrough success of Fahrenheit 9/11." - Variety Filmmakers Chris Hegedus and Nick Doob, who were responsible for the documenting of Clinton's presidential campaign in 1992 with The War Room, take us on an hilarious year-long expedition behind the frontlines of mediawars during the 2004 US election.
Interestingly, their camera doesn't focus on any of the candidates; instead it casts an admiring eye over the liberal gadfly, former Saturday Night Livecomedian-turned-best-selling author, Al Franken, who fearlessly confrontsthe pundits and politicians, effectively blurring the boundaries betweenpolitical satire and impassioned citizenry. While primarily acting as a profile on Franken, the documentary illustrateshow liberal America depends on comedic jesters instead of kings. It also features a host of beltway big mouths, including Ann Coulter, Michael Moore,Al Gore, Bill O'Reilly, John Kerry, Robert Kennedy Jr, Sean Hannity, WilliamSafire, Karen Hughes and Henry Kissinger.
---
D Nick Doob, Chris Hegedus P Rebecca Marshall, D.A Pennebaker, FrazerPennebaker WS Balfour Services Ltd TD Video/2006/90mins
Nick Doob was born in Connecticut, USA, in 1947. Chris Hegedus was born in
Pennsylvania, USA, in 1952. Their films include Down from the Mountain
(2000).